PREVENTION
Leicester textile workers learn about their rights through new qualification
More than 60 Leicester garment workers and a cohort from a leading women's charity in the city have completed a qualification boosting their knowledge of workers' rights.
Fashion Capital Fashion Technology Academy Leicester has supported 66 learners to achieve a Level 1 Award in Workers' Rights and Labour Exploitation and certificates were presented to some of those that completed the qualification.
For many, this is the first qualification they have received in their lives.
The academy, based in the heart of Leicester's textile industry, was established in 2021 to help train people in the skills they need to work in the garment sector.
Eighteen women supported by the Shama Women's Centre in Leicester have also completed the course. 
The qualification, created by the GLAA and Skills and Education Group, launched as a pilot in 2021 and enables learners to develop their skills and knowledge to be work-ready and understand the signs of labour exploitation.
Those taking the course learn where to search for jobs, spot bogus job adverts, understand how to read a payslip, their employment status, contract types, and what exploitation is, including which sectors are most at risk.
GLAA Chief Executive Elysia McCaffrey said: "It has been a real privilege to present the learners with their certificates over the last two days and to see first-hand how proud they are of their fantastic achievements.
"At the GLAA, we are passionate about ensuring that all workers are able to understand what they are entitled to and how things should work for them in the workplace. This qualification is crucial in helping them to do just that.
"The course equips workers with the skills they need to look after themselves and also to share their knowledge with their colleagues, their friends and their families."
Organisations unite to develop app to protect seasonal workers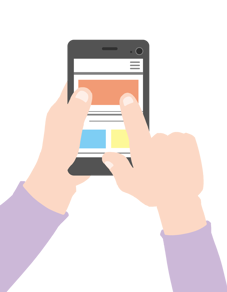 The GLAA has joined forces with a range of organisations to launch an innovative mobile app to help workers gain quality and safe seasonal work in the UK. 
The UK's largest supermarkets, Seasonal Workers' Scheme (SWS) operators, the Association of Labour Providers (ALP), the GLAA, and others from across the horticultural sector worked together to create the Just Good Work app. 
This industry collaboration recognises the need to ensure that seasonal workers are provided with accurate information during recruitment, with safe and comfortable housing, decent working conditions, are treated fairly and with dignity, are protected from hidden exploitation risks during recruitment and on farm, and have a positive experience when working in UK horticulture so that they wish to return next season.
Just Good Work is a mobile app that provides workers with critical information and access to help at every stage of their recruitment and employment journey.
The SWS version of the app has launched with sector-wide information and reporting. New languages including Russian, Indonesian, Nepali, Serbian and Vietnamese have been added in addition to Albanian, Bulgarian, Gujarati, Romanian, Polish and Ukrainian which were already available in the app.
The platform will ensure workers receive consistent guidance from when they first start looking for a job, through to when they return home at the end of the season – regardless of their recruiter or employer.
Just Good Work is freely available for all workers and employers in all sectors, including all stages of the agricultural and horticultural sector supply chain.
GLAA Head of Prevention and Partnerships Frank Hanson said: "Our aim is to prevent and protect workers from being exploited, whether it be for their labour or from poor working conditions. We know one of the most effective ways of doing this is to ensure workers understand their rights and this app is a valuable addition to the wealth of information and resources already out there.
"It's also pleasing to see industry working with agencies like the GLAA and committing to do more to ensure workers are treated fairly and have a positive experience of working in the UK."
.
.
New website to support Ukrainian refugees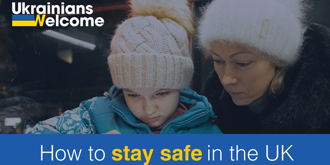 A coalition of anti-slavery and human rights groups has launched a new website for Ukrainian refugees in the UK, aimed at keeping them safe from trafficking and helping them adjust to their new home.  
www.ukrainianswelcome.org is a 'one-stop shop' of useful websites, helplines, and other information – anything from where to get basic travel and housing advice to opening a bank account and understanding your rights as a worker.  
Andrew Wallis, CEO of anti-slavery charity Unseen, one of the groups behind the initiative, said: "There are millions of Ukrainian people on the move, many of them with no support network, who are vulnerable to all sorts of exploitation.  
"The more information we can give them on how to stay safe in the UK and where to go for support for an entire range of issues, the better. It will stop exploitation."  
www.ukrainianswelcome.org is available in the Ukrainian, English and Russian languages.  
It includes links to the Government's information for displaced Ukrainians.  
"It's vitally important we get this information out there quickly as the situation gets more urgent by the day," says Andrew Wallis. 
"We are already receiving calls from Ukrainian refugees to our Modern Slavery and Exploitation Helpline. And we are also getting worrying signals from other organisations in Europe regarding the trafficking of displaced Ukrainian people. 
"We are urging the main UK mobile network providers to work with us on promoting the website to Ukrainian refugees as they arrive in the UK.  

ENFORCEMENT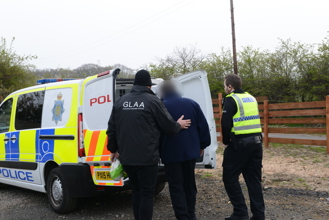 During the last quarter (January, February and March), we:
Identified 1,743 potential victims of modern slavery during enforcement activity
Conducted 15 interviews under caution
Issued

 7

 enforcement notices  
Recovered over £32k in cash 
The GLAA currently has 81 live enforcement investigations, 64% of which have indicators of Modern Slavery. 
Referrals: 
The top ten sectors for referrals were: 
| | |
| --- | --- |
| Car washing | 16 |
| 'Other' | 12 |
| Care - residential | 10 |
| Food packaging | 5 |
| Construction - building | 5 |
| Food processing - other | 5 |
| Agriculture - vegetables  | 4 |
| Hair and beauty | 3 |
| Cleaning  | 3 |
| Food service - kitchen | 2 |
 


LICENSING AND COMPLIANCE

 
Remember: you need a licence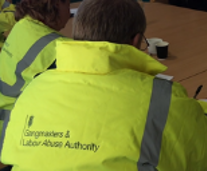 In recent months, our intelligence team has identified an increase in unlicensed gangmaster offences from companies who previously only supplied workers into non-regulated sectors such as cleaning or logistics but have now diversified into areas such as food production.
As a reminder, the GLAA operates a licensing scheme regulating businesses who provide workers to the fresh produce supply chain and horticulture industry, to make sure they meet the employment standards required by law.
If you are an employment agency, labour provider or gangmaster who provides workers to the sectors listed below, you will need a GLAA licence: 
Agriculture
Horticulture
Shellfish gathering
Any associated processing and packaging
You still require a GLAA licence even if the majority of the workers you supply are outside of the regulated sector.
Operating as a gangmaster without a licence is a criminal offence with a maximum penalty of 10 years in prison and an unlimited fine. It is also illegal to enter into arrangements with an unlicensed gangmaster.
Survey sheds light on inspection experience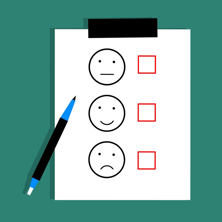 In a recent survey, our licence holders said our officers are knowledgeable, give good advice, and are courteous and professional. 
The GLAA conducts around 40 compliance inspections each year, to ensure those applying for a licence meet our licensing standards in relation to health and safety, accommodation, pay, transport and training.
Earlier this year, we launched a survey to gain insight about the process from the perspective of a licence holder. Some headlines include:
100% said our officers were knowledgeable and were satisfied with advice given
75% said inspections were carried out in a professional and courteous manner
Over 95% said they received advance notification of an inspection
Over 70% were satisfied with the inspection process, with some people adding positive comments including 'brilliant,' 'knowledgeable and professional,' and 'thank you so much.'
Nicola Ray, head of Regulation, said: "I'm so grateful to everyone who took the time to provide feedback.
"We have been reviewing your answers in detail to further enhance the service we provide going forward and ensure we're doing all we can to make the process smooth and effective for licence holders, as well continuing to do all we can to protect vulnerable and exploited workers."
NEWS
GLAA questions further suspects in North Wales care home investigation
Two further suspects have been arrested by the GLAA as part of investigations into a recruitment agency accused of supplying vulnerable students to care homes in North Wales.
The two men, Indian nationals aged 24 and 46, were taken into custody after early morning raids conducted by the GLAA and North Wales Police on Thursday 5 May.
Both men were questioned on suspicion of forced labour and human trafficking offences and have since been released under investigation.
Nine Indian students were identified by the GLAA as being potential victims of modern slavery and labour exploitation in December 2021. Officers found the workers sleeping on mattresses on the floor in cramped, cold and unsanitary conditions at two addresses in Colwyn Bay.
All the victims were transported to a nearby reception centre and have had safeguarding packages put in place, including food parcels and enhanced security at their addresses. Five further potential victims, also Indian nationals on student visas, were identified within the community and are receiving the same support.
A husband and wife, both registered nurses who run a recruitment agency, were arrested at their home address in Abergele on suspicion of modern slavery offences. They are currently released under investigation.
GLAA secures slavery order against car wash owner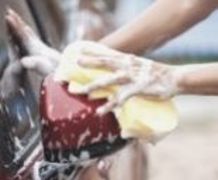 We've has secured a two-year Slavery and Trafficking Risk Order (STRO) against the owner of a Lincolnshire hand car wash.
Hamza, who runs the M&H car wash on Enterprise Way in Pinchbeck, must follow the conditions set out in the order or face a penalty of up to five years in prison.
The order prevents the 31-year-old from recruiting anyone who has no right to work in the UK. He must also pay at least the National Minimum Wage and provide wage slips to all his employees. He must keep written records of all employees and allow officers entry during trading hours to inspect conditions at the car wash and to speak to the workers. The final condition compels Hamza to inform the GLAA in writing and prior to any change of operating address for any car wash owned or controlled by him.
GLAA Investigating Officer Dale Walker said: "This is the first order the GLAA has secured in the hand car wash sector and also the first order in Lincolnshire.
"Our joint investigations with partners have indicated that Hamza has employed people for either little or no pay, with no records or contracts of employment.
"We hope this order will put a stop to this behaviour and prevent any further potential exploitation of vulnerable workers.
"We will monitor any hand car wash operated by him closely over the next two years and will not hesitate to take appropriate action should we identify a breach of the order." 

You can report your concerns by calling the GLAA's intelligence team on 0800 4320804 or email intelligence@gla.gov.uk.
Alternatively, call the Modern Slavery Helpline on 08000 121 700 or Crimestoppers anonymously on 0800 555111.
Visit our web page to view further contact information. 
Thank you for taking the time to read our bulletin. If you'd like to contribute content about your work in preventing/identifying labour abuse, you can email communications@gla.gov.uk.