GLAA speaks to 300 workers at Kent farm open day
GLAA speaks to 300 workers at Kent farm open day
6th July 2021
More than 300 farm workers were spoken to by the Gangmasters and Labour Abuse Authority (GLAA) as part of an open day event across two agricultural sites in Kent.
GLAA officers were joined by Kent Police for the engagement visits to Mansfields farms near Canterbury on Thursday July 1.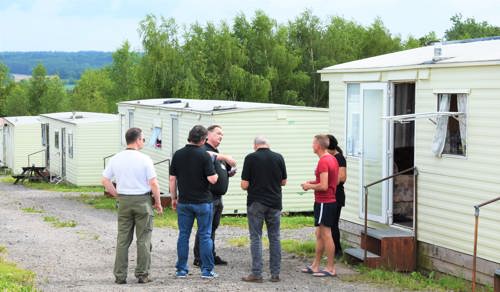 Workers were given the opportunity to speak to the GLAA at the end of their shifts, with information provided to them about their rights in the workplace and how to contact the GLAA or police if they have concerns about labour exploitation.
Mansfields employs hundreds of workers across its farms, providing accommodation for them on site. The company specialises in the growing, picking and packaging of top, stone and soft fruit, harvesting more than 25,000 tonnes of fruit a year across its 3,000 acres of farmland.
Workers are supplied to the business by Pro Force, a GLAA-licensed recruitment agency which provides workers to businesses across the regulated sector of agriculture, horticulture and food production.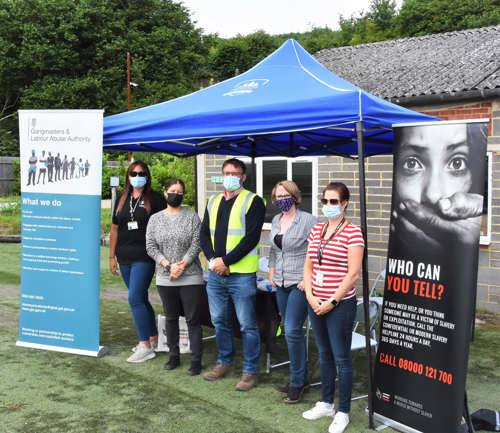 GLAA Senior Investigating Officer Jennifer Baines said: "We were pleased that the workers reported no issues and were happy with their working conditions.
"Engagement style events such as this allow us to engage with workers and their families outside of working hours in more of a relaxed environment.
"Providing workers with information about their rights and what to do if something is not right is crucial in raising awareness and educating what are potentially vulnerable people about the signs of modern slavery and labour exploitation.
"It's also really positive to see first-hand businesses and recruitment agencies take these issues seriously and actively encourage their workers to speak to us so that any problems can be identified and addressed swiftly."
CEO of Mansfields, Philip Hermon, said: "As a business we have made a promise to protect any vulnerable workers from exploitation within our industry and ethical compliance is therefore at the heart of everything we do.
"Given our size in the industry and the opportunity to engage with large number of workers at one time we were really happy to help when the GLAA and the Police/Kent Modern Slavery/Human Trafficking Unit suggested their proactive open day on our farms.
"We believe this will hugely help to raise awareness of modern day slavery to our workforce and indeed we would hope that other farming businesses follow our lead to carry out further open days across the country (in the coming months) as the effects of Brexit continue to bite."
Detective Superintendent Lee Morton of the Kent and Essex Serious Crime Directorate said: "It is important that we work with organisations such as the GLAA to ensure that workers are safeguarded from exploitation and understand their rights. We will continue to run similar partnership initiatives in the future and urge anyone who may have information about people that are potentially being exploited to contact the authorities."
Anyone who suspects someone is being exploited for their labour should contact the GLAA's intelligence team on 0800 4320804 or email intelligence@gla.gov.uk.
Alternatively, call the Modern Slavery Helpline on 08000 121 700 or Crimestoppers anonymously on 0800 555111.