November 2020
PREVENTION
GLAA webinar explores labour exploitation in construction industry
A range of experts from the GLAA joined Emma Crates, Prevention Lead at the Office of the Independent Anti-Slavery Commissioner, to talk about the exploitation of workers in the industry. 
They discussed key trends and information and how exploitation can be prevented. They also answered some of your key questions, including the impact Covid-19 and the lockdown has had on the labour market, and the motivations of those who exploit workers - and how early intervention can reduce risk.
You can watch the webinar again here. 
This was the first webinar of its kind at the GLAA and it was well-received, with around 100 people taking part. We plan to roll out more webinars like this going forward to ensure we continue to engage and inform our partners despite the current movement restrictions. 
Grant to fund research into impact of Covid-19 on Romanian workers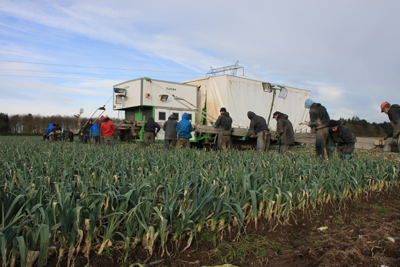 A research grant of £48,000 has been awarded to The University of Nottingham Rights Lab to examine the impact of Covid-19 on Romanian seasonal labour migrants in the UK.
The Modern Slavery Policy and Evidence Centre (MSPEC), a centre dedicated to commissioning new and innovative research on modern slavery, awarded the cash to further the understanding of the impact the pandemic has had on Romanian seasonal migrant workers in the agricultural and food processing industries. Dr Oana Burcu is Research Fellow in Human Trafficking and Migration at the Rights Lab and School of Sociology and Social Policy at the University of Nottingham. 
She said: "We are delighted to partner with GLAA to explore the impact of Covid-19 on Romanian seasonal migrant workers in the agricultural and food processing industry in the UK. Seasonal migrant workers played a vital role in supporting British businesses and ensuring goods reached consumers in the midst of the pandemic.
"The lessons drawn from this crisis will help us inform policy and practice changes that better protect workers and businesses with mitigating current challenges and future crisis. We continue to welcome expressions of interest from any employers who would like to participate in this or similar studies.
Free modern slavery resources for front line practitioners
The Modern Slavery and Human Rights Policy and Evidence Centre (Modern Slavery PEC) marked Anti-Slavery Day in October by making available a set of innovative resources designed to help front line practitioners across the UK respond to cases of modern slavery.
Five separate workshops have been developed for front-line practitioners such as the police, safeguarding teams, housing teams, fire and rescue and health services, as well as for NGOs and community organisations, businesses and recruitment agencies. One workshop is designed for all local stakeholders.
.
Frank Hanson, GLAA head of Prevention, said: "Very often the issues surrounding forced and compulsory labour are hugely complex; some exploited workers don't consider themselves victims while others are reluctant to come forward because they worry about the consequences. 
.
"What these workshops do is provide realistic scenarios to help legitimate businesses and workers who come across individuals affected by exploitation to know exactly what to do to protect and support them." 
.
Webinar: a worker's guide to the minimum wage
Join HMRC's National Minimum Wage Team and ACAS representatives as they hone in on national minimum wage calculations - specifically relating to workers' pay. They'll host an online webinar - 'A worker's guide to the minimum wage - have you been underpaid?' on Thursday 26 November at 11am.

The webinar will outline to anyone who believes they've been underpaid how to put it right. Pay will be explored in detail – what exactly counts as pay for national minimum wage purposes, what's included and what's not. It will focus on the types of mistakes employers tend to make and the errors that cause underpayment. You'll hear from ACAS representatives who will highlight the role they play and you'll also have the opportunity to ask questions to subject-matter experts on the day. 
.
.
.
TRENDS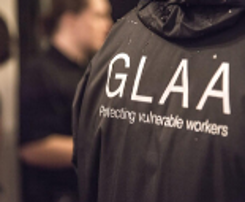 Most referrals in this quarter were made in relation to the agriculture sector, followed by food processing, shellfish gathering and textiles - the latter two are due to an increase in referrals in July, which have since declined.
Car wash referrals remain much lower than usual following lockdown and Covid-19 restrictions. Here are the top ten sectors for referrals between July and September this year:
| | |
| --- | --- |
| SECTOR | REFERRALS |
| Agriculture | 67 |
| Food processing and production | 59 |
| Manufacturing* | 43 |
| Shellfish | 39 |
| Construction | 30 |
| Car wash | 25 |
| Hotels and restaurants | 18 |
| Food service | 12 |
| Transport | 11 |
| Retail | 9 |
* 24 relate to textiles/clothing
Shellfish gathering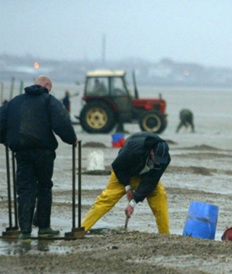 Following an increase in referrals during the spring and summer months, the number of referrals in relation to shellfish gathering began decreasing from August and September. This could be seasonal and there are likely to be less gatherers as we head into autumn. The reduction in referrals may also be a result of preventative and disruption activity disruption during Operation Aidant, a three-week multi-agency exercise launched in July to examine the impact of Covid-19 on the UK labour market.
ENFORCEMENT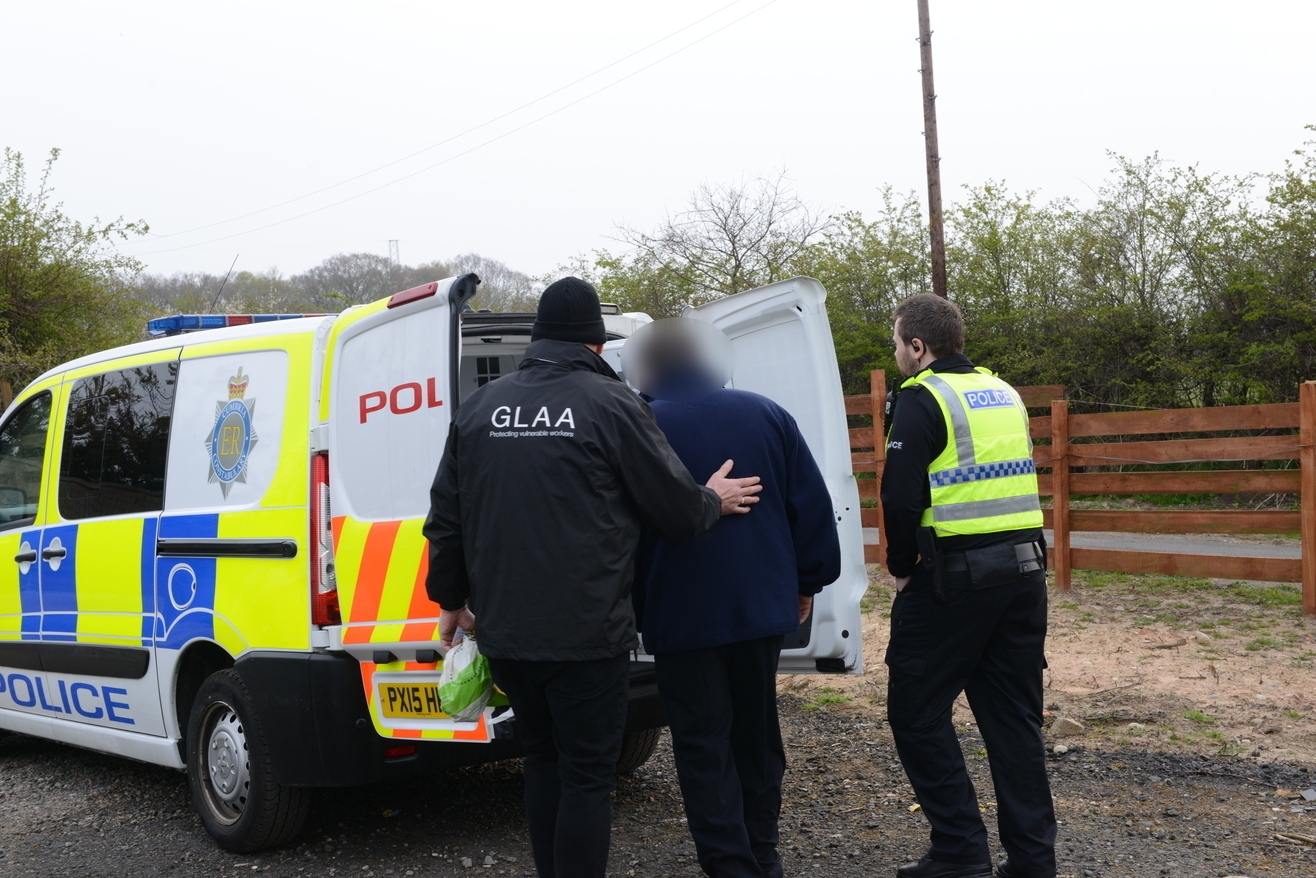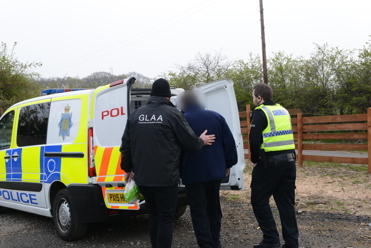 During the last quarter, we:
Identified 737 potential victims of modern slavery during enforcement activity
Issued 2 enforcement notices
Supported 16 workers in resolving disputes with their employer, such as discrimination, withheld wages, holiday pay and sick pay entitlements, resulting in the recovery of nearly £3,000 in addition to non-monetary resolutions
Received a total of 450 referrals
The GLAA currently has 121  live enforcement cases, of which 44% have indicators of modern slavery. 
Task force's work in Leicester continues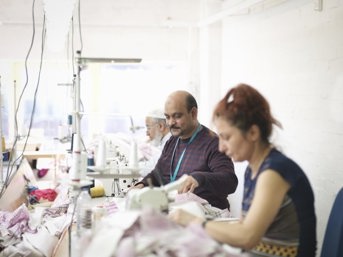 Over 100 garment factories have now been visited across Leicester as part of a multi-agency operation to ensure workers are being treated fairly and businesses are following regulations. 
Operation Tacit was launched following concerns around allegations of unsafe working conditions and the exploitation of workers that arose during Leicester's recent localised lockdown as a result of the Covid-19 pandemic. In response, several enforcement agencies, working alongside Leicester City Council and Public Health England (PHE), have been conducting unannounced visits at commercial premises in the city.
And now, the focus of enforcement work in the city has started to shift from 'engagement style' visits - utilising permissive powers to gain access - to intelligence-led, enforcement visits. Overall, the task force has identified 232 premises of interest where there are concerns relating to information and intelligence received.
The task force has, to date, visited 143 premises. 24 of those have resulted in issues being uncovered which have resulted in enforcement action being taken by agencies involved in the task force. The issues include:
Health and safety issues, unsafe working practices and issues surrounding Covid-19, social distancing and other measures to keep workers safe
Non-payment of national minimum wage and holiday pay
Illegal working
Counterfeit clothing 
Other issues of minor labour abuse
No issues of modern slavery have been uncovered to date. The engagement visits, coupled with the intelligence work and engagement with businesses, has resulted in a core group of 100 premises of concern that the task force has now shifted its focus to.
73 of these premises are subject to HMRC National Minimum Wage enforcement visits 
21 premises are subject to enforcement visits following information coming into the task force through audit work 
There are also six premises where the task force has been unable to secure access into buildings despite numerous visits
The focus of the task force activity is now on these 100 premises. It is expected that the task force's activity pursuing these premises will continue until at least the end of March 2021. Leicester City Council continue to lead on community engagement aimed at empowering workers raising awareness both within workers and the wider community of the issues within the sector and how they can raise issues of concern.
Business engagement continues to progress at a pace in Leicester through the relaunched Apparel and General Merchandising Protocol (APP), which was relaunched in September this year. 
Industry profiles
The GLAA Intelligence Team has developed industry profiles for a number of sectors across the UK labour market at risk of labour exploitation. 
They provide information for each of the industries listed below and explore a variety of factors, including how victims are recruited, their location, how they are transported to the UK, and their accommodation.
The profiles also provide information on how to prevent and identify labour exploitation and what information to consider when reporting intelligence.
You can read our industry profiles for a wide range of sectors, including the agriculture and construction industry, here. 
LICENSING AND COMPLIANCE
Upcoming meeting for liaison group
The next meeting of the Labour Provider and Labour User Liaison Group will be held on Thursday 26 November at 11am. We will be using a new online webinar-based system to allow as many people to attend as possible - we hope to see you there. Anyone who'd like information about this meeting can email GLAA head of Regulation, Nicola Ray. 
Consultation aims to improve our approach

Over the last month, we have been carrying out a series of informal sessions to explore how we can improve our approach to compliance and the licensing scheme. We have discussed the value of different types of inspection, how we can learn from the industry and other regulators and looked at wider issues such as engaging with workers. 
The GLAA Board has agreed that we should move to a formal consultation with the industry so we will be launching our proposals next month. We will ensure that every licence-holder is given access to the consultation document. 
GLAA licence renewals
We recognise that we are all operating in exceptionally unusual and challenging circumstances and we are sympathetic to those challenges for business. We want to ensure that licence holders do not accidentally become unlicensed, resulting in them committing criminal offences potentially inadvertently. For that reason, we issue reminders to licence holders where their renewal is imminent. We are currently issuing reminders by email only.
There's been an upturn in the numbers of licensing applications being made and the Regulation team is busy progressing applications and conducting inspections. A small number of licence holders have contacted us to say they have not received notification of renewal from the GLAA. If your licence is due to expire, please ensure you follow the procedures for its renewal. The renewal of the licence is the responsibility of the business regardless of whether the business has or has not received a renewal notice and steps and systems should be put in place to ensure a timely renewal. It is for this reason the licence has the expiry date clearly printed on the certificate. Please read the latest Brief to ensure you understand our new process. 
And if you're not aware, there is a list of all the licences we have revoked on our website which is updated monthly; labour users may find this information particularly useful. You can also find details of any appeals here, which features information, numbers and a link to the judgements.  
We also recently issued guidance for workers travelling to the UK and the law around self-isolation
Finally, the Regulation team has received a lot of emails during lock-down. We are working on responding to them as quickly as possible, but it may take longer than usual so we would ask you to please be patient with us. 
NEWS

Husband and wife banned after exploiting agricultural workers
A husband and wife have been banned from acting as company directors for a total of 21 years after they exploited and abused agricultural workers. Lincoln-based Simon Melville, 42, has been disqualified for 11 years, while his wife, Julie Melville, 41, has been banned for 10 years. Inspectors from the GLAA discovered that between July 2017 and September 2018, Simon and Julie Melville failed to make holiday payments to 186 employees, charged employees for safety equipment which should have been supplied free of charge, and didn't provide employees with copies of their contracts.
The Melvilles didn't provide clients with formal terms of business, they disclosed employees' personal details to third parties without consent, and allowed employees to transport staff to various sites without proper driving licences or insurance. Through the GLAA's inspection, it was also uncovered that Julie Melville had acted as the Principal Authority under the terms of the recruitment firm's GLAA licence, which was unauthorised.  
GLAA Head of Regulation Nicola Ray said: "Flagrant breaches of our licensing standards will not be tolerated under any circumstances...our investigators found eight breaches of our licensing standards, four of which were serious enough on their own to cause the company to automatically fail the inspection.
"Since then, we have worked closely with the Insolvency Service to ensure that further action is taken to fully enforce our regulations. We are pleased with the disqualification undertakings and hope they send a clear message that we will continue to work in partnership to protect vulnerable and exploited workers."
GLAA ramps up UK-wide activity after sharp rise in shellfish intelligence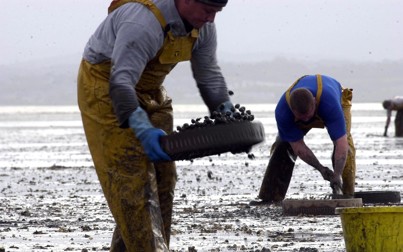 The Gangmasters and Labour Abuse Authority (GLAA) stepped up its enforcement activity on UK coastlines in response to a significant increase in allegations of unsafe working conditions and labour exploitation in shellfish gathering. Investigations are ongoing involving the GLAA and partners across England, Wales, Scotland and Northern Ireland after we saw a noticeable rise in intelligence linked to cockle picking during the current pandemic.
Shellfish reports now account for almost one quarter of total referrals to the GLAA. While not all of them relate directly to labour exploitation, there are clear concerns about the safety of potentially vulnerable and exploited workers who are unaware of the dangers of shellfish gathering.
The GLAA is sadly only too well aware of the risks of unsafe and illegal shellfish gathering, having been created following the tragic events of February 5 2004, when 23 Chinese cockle pickers exploited by an illegal gangmaster drowned off the coast at Morecambe Bay. Formed initially as the Gangmasters Licensing Authority, the agency was handed a remit to regulate businesses providing workers into the fresh produce supply chain, including shellfish gathering. Anyone illegally supplying workers into GLAA-regulated sectors could face prosecution and a maximum penalty of 10 years in prison and an unlimited fine.
GLAA Senior Investigating Officer Jennifer Baines said: "Shellfish gathering will always remain a high priority for us as an organisation because of the tragedy at Morecambe Bay 16 years ago and our commitment to do everything in our power to prevent a similar disaster ever happening again.
"If you're picking cockles for family and friends, I would ask you to abide by the regulations and ensure that what you are collecting is fit for human consumption. There are restrictions on how much you can collect for personal use and I'd also urge you to be aware of the risk to life of fast moving tides and quicksand. Please continue to be vigilant and get in touch with us if you've seen or have any information about unsafe cockle picking, no matter how small or insignificant you consider it to be."
If you'd like to report your concerns to us, contact us. 
.
Online inspections for EAS during pandemic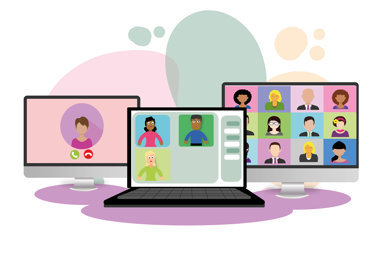 The Employment Agencies Standards (EAS) Inspectorate is responsible for enforcing the Employment Agencies Act 1973 and the Conduct of Employment Agencies and Employment Businesses Regulations 2003. This legislation requires recruitment agencies to abide by specified minimum standards. 
During the Covid-19 pandemic, the EAS has adapted its working methods to ensure their legislation is being complied with during this time. EAS would usually conduct outward bound inspections of employment businesses and employment agencies throughout Great Britain as part of regular targeted compliance operations. To accommodate the restrictions and risks caused by the pandemic, they have implemented the use of remote inspections via video conferencing.
So far, three online operations have taken place since July, and further operations are planned for this year and early next year. These inspections have taken place remotely via Microsoft Teams, which has allowed us to work effectively and safely during the pandemic. It is anticipated that, should these remain successful, EAS will make more use of remote inspections during the pandemic.
The operations completed since July have targeted sector and geographical locations where they have identified trends of non-compliance or risk in the past. Some of the employment businesses visited are also GLAA-licence holders where the business supplies both into EAS regulated sectors and the GLAA licence sectors.
Waste and recycling sectors unite to tackle labour abuse
A working group has been created to increase and prioritise activity to address human rights issues in the waste and recycling sector. It's hoped a cross-sector working group will provide the best chance to effectively understand, prevent and uncover human rights issues in the industry.
The IPHR (Indirect Procurement Human Rights) Waste and Recycling Working Group was formed by the IPHR Forum. and there are now over twenty different organisations represented, who have interests in different stages and elements of the waste and recycling sector and supply chain. The group includes IPHR Forum steering group members, in addition to stakeholders who are committed to addressing human rights and modern slavery in sector, including waste service providers, NGOs (Non Governmental Organisations), and government bodies.
Their vision as a working group is to drive positive change to improve the human rights of workers in waste and recycling supply chains. They aim to work together to share insights, best practice examples, build capacity and identify opportunities for collaboration. The group's objectives for 2020/21 are to:
Identify and assess labour rights issues in the sector 
Develop shared resources to address human rights issues in the sector
Raise awareness and engagement about human rights issues in the sector
The working group meets virtually every two months. If you'd like any further information about the group, please contact Sophie.fryer@coop.co.uk. 
.
Process begins to recruit CEO
The recruitment process to appoint the next GLAA Chief Executive Officer has begun. Details about the position, including the Candidate Information Pack, can be found on our Vacancies page.
CONTACT US
You can report your concerns by calling the GLAA's intelligence team on 0800 4320804 or email intelligence@gla.gov.uk.
Alternatively, call the Modern Slavery Helpline on 08000 121 700 or Crimestoppers anonymously on 0800 555111.
Visit our web page to view further contact information.