Cumbrian Gangmaster Prosecuted in the Shellfish Industry
Cumbrian Gangmaster Prosecuted in the Shellfish Industry
16th May 2012
On 15 May 2012 Peter Lackey, 64, of Ulverston, Cumbria, was found guilty of acting as a gangmaster without a licence at Wirral Magistrates Court. He was ordered to pay costs of approximately £3,700, and was made subject to a two-month curfew from 9pm to 7am, which will require him to be electronically tagged.
Lackey had been charged on four offences of being an unlicensed gangmaster on dates in November and December 2010 and February 2011, organising people harvesting shellfish at Leasowe beach, in the Dee estuary.
Lackey, who had given evidence as an expert witness in the prosecutions that followed the Morecambe Bay cockling tragedy in 2004, had previously held a GLA licence in 2007 to authorise his use of workers to gather shellfish. He did not renew his licence but chose to operate illegally.
District judge Michael described Lackey's defence as "impertinent", and said: "You have convinced yourself of the so-called iniquity of the legislation and tried to subvert the law."
Lackey told the court he was unhappy at the costs "because the cockle beds were not open". Lackey had been found to have been controlling a number of Chinese workers. When questioned regarding the Chinese workers that had been identified in his Land Rover Discovery he replied: "You do not refuse people a lift on the beach if you have space, for safety reasons."
Lackey's vehicle had been observed on the beach, where he was seen controlling and organising workers. Following GLA action, the vehicle returned to the beach where it became stranded in incoming waters, eventually having to be removed, by which time it was wrecked (see photos attached).
Margaret McKinlay, GLA Chair said:
"The GLA is active in this industry, and will continue to be so. This is essential because those who break the law place the lives of individuals at risk. The evidence of Mr Lackey's Land Rover speaks for itself; any worker transported in it was at risk. Mr Lackey knew he needed a licence. He took a risk that he would not be caught. It has cost him more to evade the law than be compliant. This is a lesson to all those gangmasters in the shellfish industry that think they can flout the law."
Concerns over the safety of workers arose in November 2011 when the cockle beds Lytham opened again following what was described as a "gold rush" when the beds in the Ribble Estuary opening.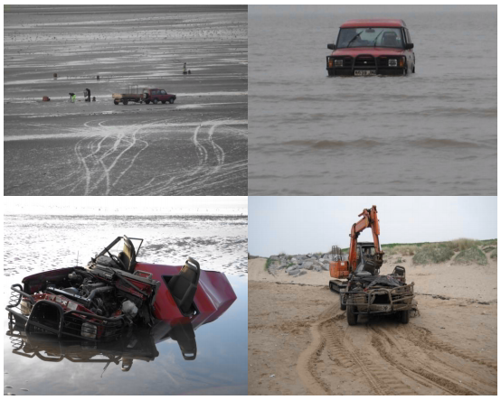 In a separate case a Romanian who organised 20 Romanian workers to collect whelks on the Isle of Skye admitted acting as an unlicensed gangmaster at Portree Sherriff's Court, see related press release.
Notes to editors
1. The Gangmasters Licensing Authority (GLA) was set up to curb the exploitation of workers in the agricultural, horticultural, shellfish gathering and associated processing and packing industries. The Act establishing it was passed in 2004.
2. Protecting workers is the key aim alongside protecting legitimate labour providers and protecting the tax payer by uncovering unpaid taxes.
3. The GLA regulate the supply of workers and labour services to any of the regulated sectors in the UK.
4. This is the second GLA prosecution of a gangmaster operating in the shellfish industry.
See: http://gla.defra.gov.uk/PageFiles/1054/Final1%20- %20Benson%20prosecution%20release%20Sept%202009.pdf
5. If Mr Lackey had renewed his licence in 2008, and each year he would not have committed an offence, and would have paid £1600 in licence fees to cover the period to August 2012.
6. It is a criminal offence to provide labour in the industries regulated by the GLA without a licence. It is also an offence to use labour provided by unlicensed labour providers.
7. The GLA assess compliance against its Licensing Standards which reflects UK legislation, including Forced Labour Offence. Licensing Standard 1.1 covers whether a person is "Fit & Proper" to hold a licence.
8. In December 2009 a new offence of forced labour was introduced in England and Wales, and Northern Ireland. It became an offence in Scotland in August 2010. GLA guidance on the offences can be found in GLA Brief 9.
9. The GLA is committed to the Governments regulatory principles, and does not conduct inspections without reason where potential risks may be identified.
End Public enquiries: 0845 602 5020
Media enquiries: 0845 602 5020
www.gla.defra.gov.uk