Haverhill update: GLAA safeguards 10 more 'slavery' victims
Haverhill update: GLAA safeguards 10 more 'slavery' victims
22nd July 2020
Investigators from the Gangmasters and Labour Abuse Authority (GLAA) have safeguarded a further 10 workers suspected of being at risk of modern slavery and labour exploitation in Suffolk.
The six men and four women, all of whom are Romanian nationals, are now in the process of receiving professional specialist support.
A total of 17 potential victims of labour exploitation, including a man who has decided to return to Romania, have been identified so far by the GLAA as part of this single investigation.
This includes a woman who was rescued from a property in Haverhill on Thursday 16 July after allegations had reached the GLAA and partners that she had been prevented from leaving her home.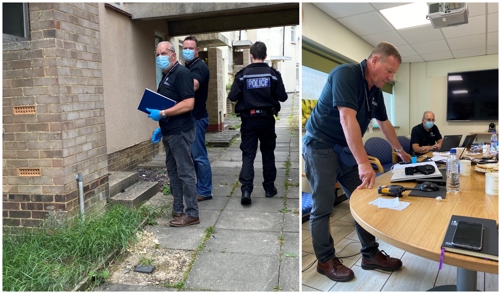 GLAA Senior Investigating Officer Jennifer Baines said: "Rescuing vulnerable workers and helping them on the road to finding alternative employment and accommodation so they can begin to rebuild their lives is the most important and rewarding part of our job.
"It is really heartening to see people who are potential victims of serious labour exploitation grow visibly stronger and happier by the hour after being safeguarded. These people are not statistics; they are some of the most vulnerable and hidden members of society in desperate need of support.
"This investigation has also emphasised how important it is for companies to have thorough safeguarding checks in place, to be fully aware of the signs of exploitation, and to report their concerns to us so we can take swift and decisive action to end any abuse taking place."
Investigations are ongoing.
If you believe someone is being exploited for their labour, contact the GLAA's intelligence team on 0800 4320804 or email intelligence@gla.gov.uk.
Alternatively, call the Modern Slavery Helpline on 08000 121 700 or Crimestoppers anonymously on 0800 555111.