Four guilty of exploitation in Cambs
Four guilty of exploitation in Cambs
23rd March 2016
FOUR people have been convicted of offences relating to the exploitation of migrant workers in Fenland.
Two men and two women were found guilty of conspiracy to acquire criminal property yesterday (March 22) following a trial at Huntingdon Crown Court.
They were:
Juris Valujevs, 37, of Turbus Road, King's Lynn.
Lauma Vankova, 27, of Creswell Street, King's Lynn.
Oksana Valujeva, 35, of Turbus Road, King's Lynn.
Ivars Mezals, 30, of St Bartholomew's Road, Reading.
Vankova, Valujeva and Valujevs were also found guilty of assisting an immigration offence, namely arranging sham marriages. The case has now been adjourned for sentencing to take place at a later date.
The trio had been tried for the sham marriage offences as part of a previous trial at Blackfriars Crown Court in December 2014, however, the jury had failed to reach a verdict.
At the same trial, Latvians Valujevs and Mezals were found guilty of acting as unlicensed gangmasters.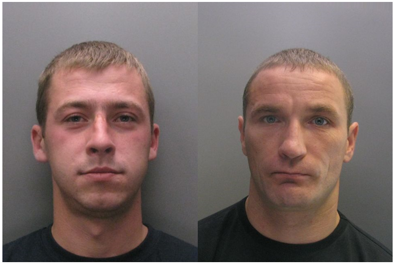 Ivars Mezals and Juris Valujevs                                                      
Their conviction was a result of Operation Endeavour, a joint police and Gangmasters Licensing Authority (GLA) investigation to tackle the large-scale exploitation of workers.
Detectives working on Endeavour discovered all four defendants were using the bank accounts of victims to commit offences.
The court heard victims would be brought to the UK, housed in accommodation controlled by the defendants and placed in debt bondage through the withholding of work and overcharging for transport and rent.
They would be taken to banks to open accounts in their own names but using the contact details of either Vankova, Valujeva or Mezals so they could control the accounts.
The jury also found that Vankova, Valujeva and Valujevs had either offered or forced three women to go through with sham marriages in order to repay debt.
One woman was offered £2,000 but refused to go through with the marriage, while another was told she would receive £1,500 for marrying a man in India. She did go through with the marriage in order to pay a £1,000 debt but said she was never paid and Valujevs used the money to buy a new car.
A third man, Laimonas Belka, 52, of Sutton Road, Leverington, was found not guilty.
Detective Inspector Jenny Bristow said: "I hope this court case and the previous one have shown how seriously we and the courts take this type of exploitation.
"The operation run by the defendants left many people in abject poverty and debt and all four defendants ruthlessly took advantage of the victims for their own gain.
"We know the exploitation of vulnerable people, many of whom simply want to make a better life for themselves in the United Kingdom, is still happening. However, we are committed to working with colleagues in partner agencies to protect vulnerable people and bring those who commit criminal offences against them to justice."
Operation Endeavour was launched as a result of a joint agency campaign called Operation Pheasant which began in early 2013 with the aim of tackling homes of multiple occupancy and poor living standards affecting economic migrants, mainly from Latvia and Lithuania, in the Wisbech area.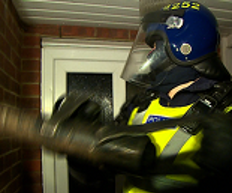 Officers break down Mezal's door prior to his arrest during Operation Endeavour
Pheasant continues today with officers working with colleagues from Fenland District Council and the GLA to combat exploitation and associated crime in Fenland.
Officers have built strong links to the Eastern European community, enabling them to identify criminal organisations and obtain information and intelligence.
The Op Pheasant team is seen as a best practice for how to deal with trafficking and exploitation and is recognised by foreign embassies of Eastern European countries that have been affected.
Press release issued originally by Cambridgeshire Constabulary. For more information contact the police press office on 01480 42(2446/2480/2498).