GLAA accompanied by police on first ever 'modern slavery swoop' in Durham
GLAA accompanied by police on first ever 'modern slavery swoop' in Durham
29th November 2017
Three people have been arrested on suspicion of committing modern day slavery offences.
Teams of officers swooped on houses in Ferryhill at 5.00am today (November 29) and three men, aged 25, 28, and 29 were arrested and are currently in police custody.
Several people, who the police believe to be victims, were found at properties in Wensley Terrace, Eldon Terrace and Lightfoot Terrace, and are now being supported by officers and other agencies.
The Gangmasters and Labour Abuse Authority (GLAA) were accompanied by Durham Constabulary police officers who detained the men on suspicion of offences under the Modern Day Slavery Act. This is the first operation of its kind across the County Durham and Darlington area.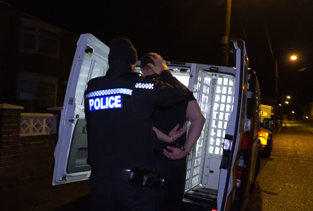 Durham Constabulary Detective Chief Inspector Traci McNally, who is leading the investigation, said: "Operation Malina is an extensive investigation into suspected modern day slavery offences which are believed to have been carried out by an organised crime group.
"At this stage we have removed potential victims to a reception centre that we have been running in partnership with the Gangmasters Labour and Abuse Authority, The Salvation Army, British Red Cross, The National Crime Agency and Durham County Council. We will be working with victims during the course of the next few days to build their trust and to make an assessment of their needs within a safe environment.
"Modern day slavery is happening in plain sight in everyday life. Contrary to some of the popular myths about modern day slavery, often victims aren't in chains, they are in debt. Protecting the vulnerable and exploited victims of this type of crime and pursuing those who commit it is something we will be relentless about in our activities.
"I urge anyone who has any concerns about activity relating to individuals being forced to work against their will for low or no wages, or being controlled or mistreated, to report it to us."
GLAA Senior Investigating Officer Dave Powell, said: "The GLAA's primary focus is to work in partnership with other law enforcement bodies to prevent the exploitation of workers across the UK.
"As an organisation we are now able to provide unrivalled expertise and years of experience of investigating labour abuse and interviewing exploited workers to enquiries throughout England and Wales.
"We are delighted to be able to work with Durham Constabulary on this successful operation and will continue to work with all partners to take out or disrupt organised criminal groups who are intent on profiting illegally by exploiting their workers."
Cllr Lucy Hovvels, Durham County Council's Cabinet member for adult and health services, said: "It is clearly very concerning that modern day slavery is happening in our area but this operation shows how we are supporting our partners in tackling it.
"We are working with those we believe to be victims to ensure they receive any help and support they need."
The Salvation Army's Director for Anti-Trafficking and Modern Slavery, Anne Read, said: "The Salvation Army is working with police in Durham to provide reception centres for immediate support for potential victims of modern slavery as well as arranging the longer term support many so desperately need and deserve.
"It is vital that victims' needs are assessed and they receive immediate access to specialised support.  Once they have been identified as potential victims of modern slavery The Salvation Army ensures that they have access to support and accommodation at a safe house if needed."
British Red Cross director of independent living and emergency response in the North of England, John Morris, said:  "The Red Cross was asked by Durham Constabulary to provide practical and emotional support to anyone evacuated as a result of this operation, in a place of safety.
"Our trained staff and volunteers were on hand to provide emotional support, as well as practical necessities such as clothing, refreshments and first aid.
"The Red Cross works alongside emergency services across the UK to help those in crisis."