Death of GLAA Chief Executive
Death of GLAA Chief Executive
29th December 2017
It is with profound shock and deep sorrow that the GLAA announces the sudden death of our Chief Executive Paul Broadbent. 
Our thoughts, prayers and condolences are with his family and friends who have asked for privacy at this distressing time.
Paul, 54, had devoted more than 30 years of his life to public service in a career that began as a young police officer on the beat in Cumbria and which saw him rise through the ranks to Assistant Chief Constable with Nottinghamshire Police.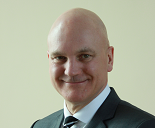 But it's for his time after policing that he will be rightly remembered. His legacy is the Gangmasters and Labour Abuse Authority. Paul was a champion for the vulnerable and exploited, he recognised the real need for an organisation like the GLAA and it's because of his vision, determination and a liberal sprinkling of the charming Yorkshireman that he was, that people of influence listened to him. 
He was a warm, funny, generous man, who cared deeply for GLAA colleagues and was hugely passionate about tackling the scourge of modern slavery and labour exploitation. His death is a shattering tragedy for those of us who knew him and the world is a far poorer place without Paul Broadbent. 
Today, the GLAA family has lost its figurehead, its leader. We will grieve for Paul and his family and then set about honouring his legacy.
Minister for Crime, Safeguarding and Vulnerability, Victoria Atkins, said: 
"I have been deeply saddened by the news of Paul's death. He dedicated his life to public service in the police and, in recent years, in his leadership of the GLAA. He was passionate, innovative and determined in his efforts to tackle labour exploitation and modern slavery and to make a real difference to people's lives. My thoughts are with his family, friends and colleagues at this very sad and difficult time."
Margaret Beels, Chair of the GLAA, said:
"I and the other members of the GLAA Board were shocked and greatly saddened to hear of the untimely death of our Chief Executive, Paul Broadbent. We held him personally in the highest regard and immensely valued his leadership in transforming the GLA into the GLAA.
"Working together, we will continue in 2018 to strive to deliver the legacy that Paul has left with us."