Arrests after man 'lived in shed for four years'
Arrests after man 'lived in shed for four years'
31st October 2018
Two people have been arrested following reports that a potential modern slavery victim had been living in a concrete shed for the last four years.
The Gangmasters and Labour Abuse Authority (GLAA) arrested a 56-year-old woman and 54-year-old man on suspicion of modern slavery offences after carrying out a morning raid in Chilworth, near Southampton, on the morning of Tuesday 30 October.
GLAA officers acted after a frail Polish man told staff at a walk-in-centre in Southampton that he had been forced to work in exchange for food.
The potential victim told the GLAA that he had been sleeping on a plastic sun lounger in the shed at the bottom of the garden and was given out of date food to eat. He also said that he had no flushing toilet and that his kitchen was a fridge and barbecue.
The man, aged in his 40s, has been accepted into the government's National Referral Mechanism, a process for ensuring victims of modern slavery and human trafficking are given the help and support that they need.
Both suspects have been released under investigation pending further enquiries. Officers also searched the property and seized evidence which may prove critical to the investigation.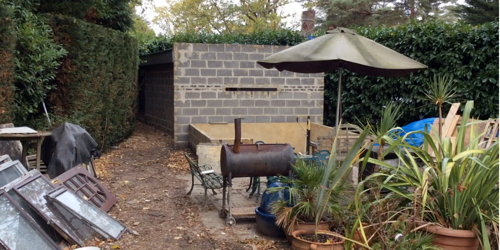 The operation, which was supported by officers from Hampshire Police, was the second case of a potential victim living in a shed for a significant period of time.
Earlier this month, GLAA officers arrested a 79-year-old British man on suspicion of modern slavery after finding a potential victim who is believed to have lived in a six foot shed in Cumbria for the last 40 years.
GLAA Senior Investigating Officer Tony Byrne said: "First and foremost, we are pleased that the man is now receiving the help and support he so desperately needs. In the 21st century, no-one should be forced to live in such degrading and disgusting conditions.
"Following the two arrests we made, our investigation is ongoing as we examine and assess the evidence we collected from the property.
"I would also like to praise the NHS staff who reported their concerns. It's really important that people get in touch if they believe someone is being exploited. By contacting us, we can ensure that some of the most vulnerable people in society are protected and supported."
Test Valley District Commander Chief Inspector Kory Thorne said: "Instances of modern day slavery in the Test Valley are rare. However, when information is received suggesting someone is being subjected to modern day slavery we will work with partner agencies to investigate and where necessary take action against those people responsible."
Anyone who suspects someone is being exploited should contact the GLAA's intelligence team on 0800 4320804 or email intelligence@gla.gov.uk
---
NOTE TO EDITORS: More details about this investigation will be released by the GLAA as and when appropriate.