GLAA Chair honoured with OBE for tackling modern slavery
GLAA Chair honoured with OBE for tackling modern slavery
31st December 2019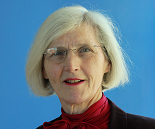 After more than eight years at the helm of the GLAA Board, Chair Margaret Beels has been honoured with an OBE.
Margaret has been celebrated in the 2020 New Year's Honours List for her services to tackling and preventing modern slavery and labour exploitation.
She said: "I am honoured and delighted; in addition to my own contribution, this recognises the importance of GLAA's work in protecting vulnerable and exploited workers.
"I pay tribute to all those who work in the organisation and also thank my Board colleagues for their support."
Appointed as Chair of the Board in 2011, Margaret was closely involved in the transformation of the original GLA into what it is today - the Gangmasters and Labour Abuse Authority (GLAA). 
With the introduction of the Modern Slavery Act in 2015 and the Immigration Act in 2016, the organisation was given new powers to protect vulnerable and exploited workers.
This saw the expansion of its responsibilities from being a statutory licensing scheme in the agriculture, horticulture food packing and shell fishing industries, to investigating forced and compulsory labour across all sectors.
It was Margaret's previous work as CEO of the Immigration Advisory Service charity that stirred her desire to become involved in improving conditions for workers.
"We provided legal advice to immigrants asylums seekers and refugees – this opened my eyes to their vulnerability. So, when the position of GLA Chair arose, it was a good fit," said Margaret.
Margaret represents the GLAA externally and takes a keen interest in the delivery of GLAA's mission and in working with stakeholders to protect vulnerable and exploited workers.
And, as Margaret remembers, she has many proud and vivid memories from her time at the GLAA.  
She said: "The most exciting moment was on an operation relating to cockle picking in North Wales, when we ended up chasing after a Bentley Coupe!
"And one GLAA event which I recall with particular pride was a GLAA conference in 2017. There were hundreds of people present, and a waiting list to attend - that clearly demonstrated to me the public commitment is overwhelmingly in support of the GLAA and tackling worker exploitation." 
Minister for Safeguarding and Vulnerability Victoria Atkins added: "Margaret has led the GLAA in tackling the heinous crimes of modern slavery and human trafficking.
"This honour is well deserved and I'd like to congratulate and thank Margaret for her commitment to ending modern slavery."
In 2019, she was appointed as GLAA Chair for a further three years.  
GLAA CEO Michael Rich said: "Margaret's commitment in supporting the work of the GLAA goes above and beyond what one would normally expect of a board member.
"She possesses an undeniable passion and dedication to make a difference and everything she does, she brings back to our mission of protecting vulnerable workers.
"We congratulate Margaret on this very special recognition and look forward to working with her in continuing this important work."
Margaret is also Deputy Chair of the Friends of the Connection, a charity supporting the homeless in central London and, a keen choral singer, Margaret is also a trustee of The London Chorus.