February 2021
PREVENTION
GLAA launches national workers' rights qualification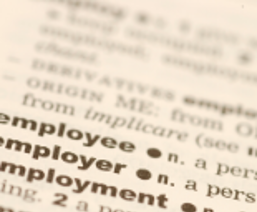 A new qualification providing students with the skills and knowledge to protect themselves from labour abuse has launched. 
The Level 1 Award in Workers' Rights and Labour Exploitation has been developed by the GLAA in partnership with the Skills and Education Group, the University of Nottingham's Rights Lab and Boston College in Lincolnshire.
One thousand young adults are expected to take part in the pilot project across a range of colleges and other educational establishments from February 1.
The 10-hour course has been designed specifically for those entering the world of work. Students will be given a crash course in understanding their rights in the workplace, covering everything from how to apply for jobs safely to the National Minimum Wage, holiday pay and reading payslips.
They will also be taught how to identify the main signs of modern slavery and labour exploitation, and the ways they can report concerns to the GLAA and law enforcement.
The course will be highly interactive, featuring videos and case studies which can either be delivered online or in a classroom setting once COVID-19 restrictions are lifted.
Students will be assessed through a combination of coursework and examinations at the end of the project, which will be regulated by the Office of Qualifications and Examinations Regulation.
The qualification follows a successful pilot between the GLAA and Boston College during the 2018-19 academic year, which saw all 1,500 full-time students at the college receive a tutorial on workers' rights.
This was the first time the GLAA had worked with a college to embed the subject of labour exploitation across a curriculum.
10-point checklist developed for poultry workers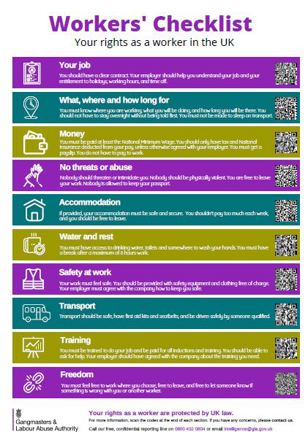 We've developed a new 10-point checklist for workers in the UK poultry industry to help them understand their rights in the workplace and spot the signs of labour exploitation.
Educational posters created by the GLAA have been distributed to a dozen poultry sites in England, Wales and Scotland as part of a pilot project, which has been backed by the British Poultry Council.
The posters feature the top 10 labour rights chicken catchers and other poultry workers should expect from their employer, covering the following areas:
• Contract, including working hours, holidays and time off
• Working conditions
• Pay
• No threats or abuse
• Accommodation
• Water and rest facilities
• Health and safety
• Transport
• Training
• Freedom
The posters will be available in four different languages including English and also include QR codes directing workers to the GLAA and partners' websites for further information on their rights.
The checklist is based on the legal requirements in the GLAA licensing standards, which protect workers from poor treatment and exploitation.
P. D. Hook, Avara Foods and 2 Sisters Food Group, three of the industry leaders in this sector, signed up to the pilot project, which began in December 2020. 
Once the pilot is completed and evaluated, the GLAA will build on this by producing a more detailed document educating and reminding labour users of their responsibilities to their workers.
GLAA Investigating Officer Adam Wright said: "Through my numerous compliance inspections in this area, I have found that the poultry industry is a very distinct part of the labour market which often does not share many similarities with other parts of the GLAA-regulated sector.
"Our engagement with industry stakeholders has resulted in collective contributions from within the sector towards this pilot, all of which will ultimately benefit workers.
"While the requirements in this poster have been designed with the poultry sector first and foremost in mind, they should be standard practice for responsible and compliant businesses across the labour market.
"Paying someone the National Minimum Wage and providing them with the correct equipment and training is as relevant for someone working at a car wash or on a construction site as it is for a poultry worker.
"Ensuring that workers understand their rights and the signs of labour exploitation is crucial in maintaining healthy, productive workplaces. We hope that this much-needed resource will help to achieve this alongside our regular compliance inspections and targeted enforcement activity."
You can find and download the poster from the resources section of the GLAA website.
Webinar to explore labour exploitation

Stakeholders are invited to a webinar hosted by the GLAA in which we will be discussing a range of issues focusing on labour exploitation.
.
The Joint Labour User/Labour Provider Liaison Group and NGO Working Group will meet on Tuesday 2 March, and all stakeholders are being invited to take part. 
.
Topics for discussion include working with partners to prevent exploitation, the support given to victims through legitimate employment opportunities, and research into the impact of the COVID-19 pandemic on vulnerable workers.
.
.
.
Additional funding for Responsible Care Wash Scheme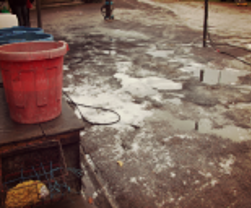 .
.
The Home Office has provided funding to develop a toolkit and webinar full of advice and information which could be used more widely in the future. 
.
The cash will also support activity to test the effectiveness of voluntary licensing in an area over a three-month period, once COVID-19 restrictions are lifted and car washes re-open. 
.
The GLAA has supported the Responsible Car Wash Scheme since it was launched in October 2018 and helped develop its Code of Practice. Along with the GLAA, the scheme is supported by the police, HM Revenue and Customs, the Environment Agency, the Health and Safety Executive, the charity Unseen, and national hand car wash franchise operators. 
.
Five major supermarkets - Tesco, ASDA, Sainsbury's, Morrisons and Waitrose - have all signed up to the scheme to ensure that hand car washes on their sites are compliant, and have also contributed to funding the pilot. 
.
The GLAA does not run the initiative but work closely with the Responsible Car Wash Scheme to promote good working practices, raise awareness of the code, and with the other founder members, explore how the accreditation scheme could potentially expand in the future.
.
More information on the Responsible Car Wash Scheme can be found
on its website
.
ENFORCEMENT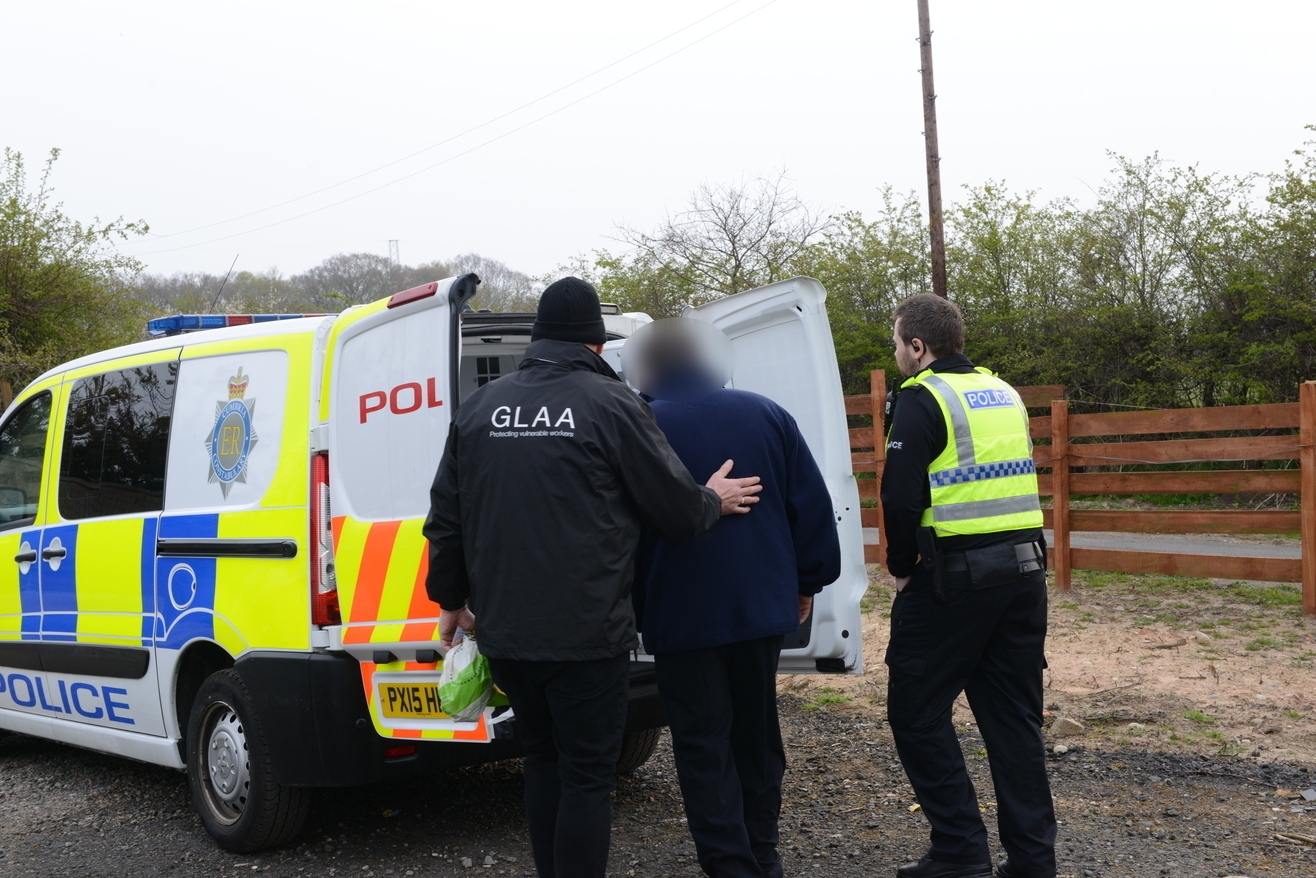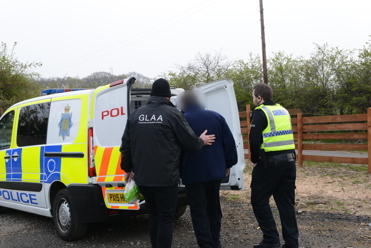 During the last quarter (October to December 2020), we:
Identified 1,101 potential victims of modern slavery during enforcement activity
Issued

 6

 

enforcement notices and two warnings 
The GLAA currently has 327 live enforcement cases, of which 25% have indicators of modern slavery. 
LICENSING AND COMPLIANCE
The risks of using Mini Umbrella Companies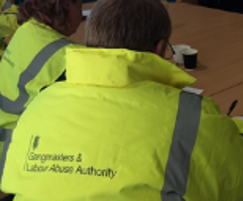 The GLAA has recently seen an increase in the number of licensed businesses and new applicants using a mini umbrella company (MUC) model.
We have been working closely with HMRC on this issue and we are concerned that this model may be exploited by some businesses, leading to tax fraud. This, in turn, may affect the status of your GLAA licence.
MUC fraud creates an uneven playing field for those employment agencies and businesses who follow the rules. The GLAA aims to create a level playing field throughout the regulated industry and we have created a brief (click on brief 67) to raise awareness of the MUC fraud model and its risks to your business.
The MUC model presents an organised crime threat to the UK Exchequer. The fraud is primarily based around the abuse of two government incentives aimed at small businesses – the VAT Flat Rate Scheme and the Employment Allowance. MUC fraud can also result in the non-payment of other taxes such as PAYE, National Insurance and VAT which reduces vital funding for the public services we all rely on.
MUC fraud can be found in supply chains wherever temporary labour is used. The MUC fraud model involves splitting up a workforce into hundreds or thousands of small limited companies set up solely to enable the fraud. The workforce is generally a temporary workforce who would previously have been paid by an employment agency or an umbrella company.
It is important for businesses to consider the credibility of the supply, payment arrangements and other surrounding circumstances to help safeguard themselves from financial, operational and reputational risks. Guidance on undertaking robust due diligence can be found here: the supply chain due diligence principles.
To read more about mini umbrella companies, including advice on how to spot the signs, read brief 67 here. 
NEWS
Third family member handed Slavery and Trafficking Risk Order
A third family member suspected of exploiting vulnerable workers has had tough restrictions imposed on them following investigations by the GLAA.
Doncaster Magistrates' Court granted an application by the GLAA for an interim Slavery and Trafficking Risk Order (STRO) against Teodora Dinu on Wednesday 13 January.
This order mirrors a joint STRO handed out by the same court to her daughter Mihaela Dinu, 23, and son-in-law Florin-Ciprian Dinu, 21, in August 2020.
The civil order means that the 44-year-old is bound by several strict restrictions which, if breached, will result in criminal prosecution.
Conditions set out in the STRO prohibit Dinu, of Gladstone Road, Doncaster, from arranging travel or transport into England for anyone other than her immediate family, including for work.
Dinu is also prevented from arranging or helping to find employment for anyone other than herself, possessing, controlling or using someone's bank card without their permission, and renting or sub-letting any accommodation she owns to anyone other than her immediate family.
The remaining conditions forbid her from procuring, coercing or instructing anyone else to carry out the restrictions set out above on her behalf.
In granting the STRO, the judge said that it was necessary to prevent potential modern slavery and human trafficking offences, particularly if workers continued to be housed at the address. The order is in place until a trial for the full STRO is held later in the year.
GLAA Senior Investigating Officer Dave Powell said: "Despite the previous restrictions imposed last year, we remained concerned that there was a danger of potential victims being trafficked to and exploited for their labour.
"The approval of a second STRO as part of our investigations will provide additional safeguards significantly reducing the risk of labour abuse."
Breaching the order is a criminal offence carrying a maximum penalty of five years in prison.
Two arrested for modern slavery offences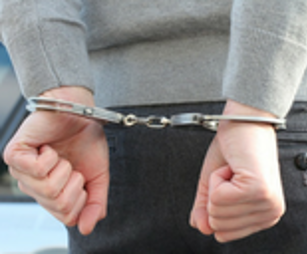 A man and a woman were arrested in north Nottinghamshire on suspicion of committing modern slavery offences.
In a joint operation by the GLAA and Nottinghamshire Police, investigators arrested a 25-year-old man and a woman, 22, at a home in Mansfield in December following allegations people were being trafficked into the town from other parts of the UK, with the intention of financially exploiting them. 
They were detained on suspicion of human trafficking and labour exploitation offences and released under investigation following questioning. 
Detective Inspector Paul Lefford from Nottinghamshire Police, is working alongside the GLAA. He said: "The GLAA and Nottinghamshire Police will continue to work together on this investigation and any other that involves the exploitation of vulnerable people. 
"Modern Slavery can present in many forms and is a complex and often hidden crime. We work very closely with partner agencies to investigate and respond to concerns regarding anyone who is potentially a victim of modern day slavery. 
"Increased awareness and training for first responders has significantly improved the way this type of abuse is being tackled. I would urge anyone with concerns regarding someone being exploited to contact the police or the Modern Slavery Helpline on 08000 121 700."
A reminder over workplace pensions duties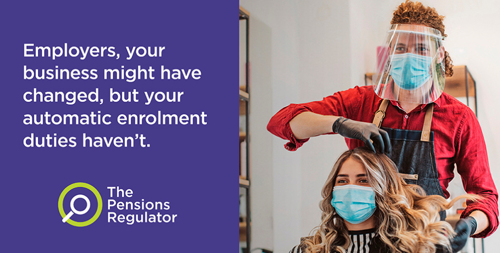 The Pensions Regulator is reminding employers across all employment sectors that while the workplace has changed due to the pandemic, their workplace pensions duties have not.
All employers, including those in the agricultural and horticultural sectors, have a legal duty to automatically enrol eligible staff into a workplace pension and pay in the correct contributions for them.
While these are uncertain times for all employers including those starting new businesses, you must continue to do the right thing for your staff.  Failing to meet automatic enrolment duties could lead to enforcement action including financial penalties.
TPR has lots of information for new employers showing what you must do to meet your automatic enrolment responsibilities. 
Staff must be assessed to see if they are eligible for AE and if they are, they must be put into a qualifying scheme.  TPR has a list of schemes which are suitable for AE.
New employers must complete a declaration of compliance. This shows TPR how you have met your duties.  Failing to do this will lead to a warning notice in the first instance. 
If you have temporary or seasonal staff you can consider using postponement.  This means you can choose to delay working out who to put into a pensions scheme for up to three months.
One of the main reasons employers use postponement is when they have staff they know will not be working for them in three months' time.  However, employers can use postponement for other reasons including to allow more time to set up a pension scheme or other business process.
Once staff have been enrolled into a pension, employers have ongoing duties to ensure staff continue to receive the pensions contributions they are due.
Every three years employers must complete re-enrolment.  This means you must put eligible staff who opted out, back into a pension which gives them a fresh opportunity to save. 
It is important you ensure TPR has the correct contact details for you.  This means you will receive important information including key reminders about action you need to take to ensure you are compliant with the law.
TPR is taking a proportionate approach to enforcement in light of the pressure employers are under due to impact of COVID-19.  However, employers continue to have duties and risk penalties if they fail. 
Useful links:

Guidance for employment: www.tpr.gov.uk/employers
How to use postponement: http://www.tpr.gov.uk/postponing   
Investigator shares why she's passionate about helping victims 
The Clewer Initiative has developed a special 'Women in the Shadows' course for Lent, to help shine a light on the suffering of marginalised women.
With a range of free materials available, the course focuses on the different ways women and girls are exploited in the UK today.
The Clewer Initiative spoke to our very own Senior Investigating Officer (SIO) Jen Baines about her challenging role and why she's passionate about helping victims of exploitation.
Jen is featured in a Q and A on their website, and also appears in the Women in the Shadows films (above), sharing her experience of fighting modern slavery in the UK.
The SIO was asked why she cares about fighting modern slavery. She said: "I have worked in many different areas in my career including customs and investigating serious and organised crime with the National Crime Agency. I have now specialised in modern slavery because I feel I can make a difference.
"I am a mother, and I would never want something like this to happen to my own child. That is the reason why I am doing it because everybody is somebody's child. Nobody deserves to be treated in the way that some of these people have been treated."

When asked about her role, she said: "I am the senior investigating officer for the South East of England. I lead a team of investigators that specialise in investigating modern slavery and human trafficking offences.
"We find people in very difficult situations who are often quite traumatised. Usually, the women we come across have been subject to exploitation or have been trafficked into the country on false promises.
"They have been told that they are either going to get a good job or education but when they reach the UK, the story is extremely different. They are forced into locations and places, to do things they never would have agreed to do voluntarily."
To read the full interview, visit the Clewer Initiative website.

To hear more from Jen about how women can be forced into work in the UK, and to access the course materials, download the Women in the Shadows resource.
*The Clewer Initiative will be holding a Facebook Live event to discuss how women and girls can get lured into exploitation and what we can do to spot the signs and support victims. They'll be streaming simultaneously on the Clewer Initiative and Hestia Facebook pages at 12pm on Wednesday 17 February.
CONTACT US
You can report your concerns by calling the GLAA's intelligence team on 0800 4320804 or email intelligence@gla.gov.uk.
Alternatively, call the Modern Slavery Helpline on 08000 121 700 or Crimestoppers anonymously on 0800 555111.
Visit our web page to view further contact information. 
Thank you for taking the time to read our bulletin. If you'd like to contribute content about your work in preventing/identifying labour abuse, you can email communications@gla.gov.uk.