Pilot project will teach students about modern slavery
Pilot project will teach students about modern slavery
1st June 2018
Boston College will become the first college in the UK to join forces with the Gangmasters and Labour Abuse Authority (GLAA) to teach students about modern slavery and labour exploitation within its curriculum.
The pilot project for the 2018-19 academic year will see a number of activities taking place from September, helping students gain a better understanding of modern slavery and labour exploitation.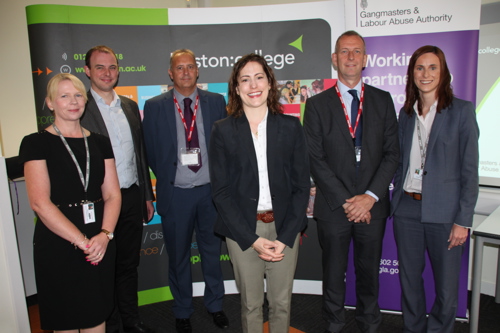 Masterclasses will be held with professionals giving their insights on the work to tackle modern slavery and support victims.
Tutorials will be created for staff and students, who will be equipped with a comprehensive knowledge of employment rights.
They will also take part in a unique visual art competition interpreting the term 'gangmaster'.
The project, which supports the GLAA's Prevent strategy, will reach out to local employers to help them better understand labour exploitation in the workplace.
A launch event was held at the college on Friday 1 June, with attendees including Minister for Crime, Safeguarding, Vulnerability and Women Victoria Atkins, Member of Parliament for Boston and Skegness Matt Warman, and Lincolnshire Police and Crime Commissioner Marc Jones.
Dawn Telford, Head of Learner Services at Boston College, said: "This new partnership will provide opportunities for not only our learners, but also for staff and parents to learn about issues of modern slavery and labour exploitation.
"It is important our learners understand their rights in the workplace, and by providing this information it safeguards our young people who will be moving in to employment.
"Boston and surrounding areas such as South Holland have a historically high concentration of gangmasters serving the agricultural and food processing sectors.
"Over the last 15 years, the area has also seen significant levels of migration from other EU countries, especially Poland, Lithuania and Latvia. This has meant that more than one quarter of students studying at the college come from a non-British background."
GLAA Director of Strategy Darryl Dixon said: "We are delighted to be working with Boston College on this ground-breaking initiative. The college is perfectly placed within its community to raise awareness of modern slavery and labour abuse, as well as being able to take appropriate action to help anyone who may have been exploited."
Minister for Crime, Safeguarding, Vulnerability and Women Victoria Atkins said: "I am pleased that the GLAA and Boston College have created a course which will help raise awareness and build a stronger insight to effectively tackle this awful crime.
"This government is taking a world leading approach, by using the Modern Slavery Act and reforms to the GLAA, to provide law enforcement the powers they need to identify victims, protect vulnerable people and bring offenders to justice.
"The GLAA has played a pivotal role in our fight against exploitation by using its new powers to investigate labour market offences, arrest employers who may unscrupulously be exploiting their workers, and identify and refer potential victims through the National Referral Mechanism to ensure the right support is given to those in need."
At the end of the project, the GLAA will make a range of educational resources for all other colleges and post-16 education providers across the UK freely available.
If you have concerns about labour exploitation, speak to the GLAA's intelligence team on 0800 432 0804 or email intelligence@gla.gov.uk.
Alternatively, call the Modern Slavery Helpline on 08000 121 700.