Leicester workers complete workers' rights qualification
Leicester workers complete workers' rights qualification
15th June 2022
More than 60 Leicester garment workers and a cohort from a leading women's charity in the city have completed a qualification boosting their knowledge of workers' rights.
Fashion Capital Fashion Technology Academy Leicester has supported 66 learners to achieve a Level 1 Award in Workers' Rights and Labour Exploitation and certificates were presented to some of those that have completed this qualification on Wednesday June 8.
For many, this is the first qualification they have received in their lives.
The academy, based in the heart of Leicester's textile industry, was established in 2021 to help train people in the skills they need to work in the garment sector.
The event was attended by representatives from the Gangmasters and Labour Abuse Authority (GLAA), Skills and Education Group, and by Leicester City Council's Deputy Mayor, Councillor Adam Clarke.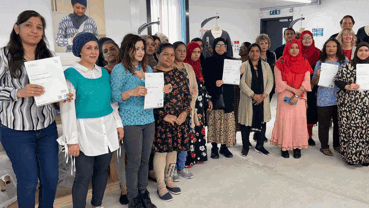 Eighteen women supported by the Shama Women's Centre in Leicester have also completed the course. Shama has helped more than 30,000 vulnerable BAME women into work since 1983 by providing a range of training programmes in their purpose-built women-only industrial training centre, including most recently the Level 1 Award.
The qualification, created by the GLAA and Skills and Education Group, launched as a pilot in 2021 and enables learners to develop their skills and knowledge to be work-ready and understand the signs of labour exploitation.
Those taking the course learn where to search for jobs, spot bogus job adverts, understand how to read a payslip, their employment status, contract types, and what exploitation is, including which sectors are most at risk.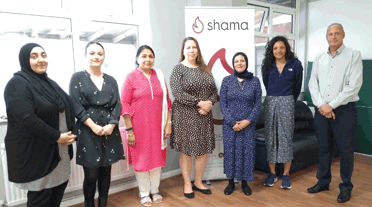 GLAA Chief Executive Elysia McCaffrey said: "It has been a real privilege to present the learners with their certificates over the last two days and to see first-hand how proud they are of their fantastic achievements.
"At the GLAA, we are passionate about ensuring that all workers are able to understand what they are entitled to and how things should work for them in the workplace. This qualification is crucial in helping them to do just that.
"The course equips workers with the skills they need to look after themselves and also to share their knowledge with their colleagues, their friends and their families."
Skills and Education Group Chief Executive Paul Eeles said: "This is a ground-breaking and important qualification that can benefit learners from all backgrounds. Labour exploitation remains a significant problem in our society, and the Leicester fashion and textile industry has been investigated for signs of exploitation in recent times.
"It is therefore fantastic to see learners at Fashion Enter engaging with a course that will enable individuals to develop a greater understanding of their workers' rights and labour exploitation. On behalf of everyone at Skills and Education Group, I would like to congratulate all of the learners for their successful completion of the qualification."
Jenny Holloway, CEO of Fashion Enter which runs the Fashion Technology Academy Leicester, said: "Since February 2022, FCFTA Leicester has successfully supported 66 individuals gain a qualification in workers' rights and labour exploitation. The course has been delivered in garment factories and at the academy for those that are unemployed and looking to gain a new career pathway.
"This is a really powerful course that is vital for all industries but especially ones that have been under the spotlight. Thank you to the garment factory owners for investing in their workers and also to all of the learners. English is often not their first language – however this did not stop their commitment and enthusiasm throughout."
Khudeja Amer-Sharif, CEO of Shama Women's Centre, said: "I am really delighted that we have been able to offer the Level 1 course at the centre as it clearly addresses the need to raise awareness with BAME women who can often be exploited in certain industries, as to what to expect from employers, a better understanding of their rights as employees; and it gives them a recognised qualification too.
"For some women this will be the first time that they have completed a qualification due to cultural barriers. We have had such a positive response from our learners and look forward to taking on more."