Three Remain in Custody following Cambs Operation
Three Remain in Custody following Cambs Operation
16th October 2013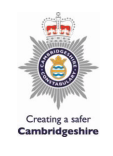 Three people remain in custody today following a day of action against the exploitation of workers in Fenland.
The 44-year-old man from March, a 27-year-old man from Wisbech and a 27-year-old woman from Wisbech continue to be held at March Police Station.
Six people have been released on bail to return to a police station at a later date.
The people were arrested at around 4am yesterday (October 15) at addresses in Wisbech, March and King's Lynn.
The operation was led by police and the Gangmasters Licensing Authority (GLA) and also involved the National Crime Agency (NCA), Fenland District Council, the Home Office and the Vehicle and Operator Services Agency (VOSA).
In total about 300 police and partner agency officers and staff were involved.
The police and GLA also attended the premises of March-based recruitment agencies Roberto Mac Ltd, and Slender Contracting Ltd, whose licences were suspended with immediate effect.
A reception centre was set up by Fenland District Council to accommodate victims or other workers who were supported by the British Red Cross and The Salvation Army. A total of 80 people were received at the centre, 40 of which have been enabled to leave, and work continues there today.
ENDS
Press release issued by GLA Communications and Information Officer Paul Fearn. Contact 0115 959 7069 or email communications@gla.gsi.gov.uk.
Note to editors:
1. The people given conditional bail were: two 44-year-old men from March, a 26- year-old man from Wisbech, a 27-year-old man from Wisbech, and a 36-year-old woman from Wisbech, who were all arrested on suspicion of conspiracy to defraud.
2. A 22-year-old woman from Wisbech who was arrested on suspicion of possessing a section 5 firearm, namely a pepper spray, was bailed until December 9.
3. The day of action was part of Operation Endeavour, an on-going joint police and GLA inquiry into the exploitation of migrant workers in the Wisbech area, mainly from Lithuania and Latvia, which has been running for four months.
4. It was launched as a result of Operation Pheasant, a joint-agency campaign to tackle homes of multiple occupancy and poor living standards which started in November last year.
www.gla.defra.gov.uk