Further Action in Fenland Inquiry
Further Action in Fenland Inquiry
18th October 2013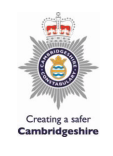 Police have arrested a tenth person and a third company has had its licence suspended by the Gangmasters Licensing Authority (GLA) as part of the ongoing investigation into the exploitation of workers in Fenland.
A 35-year-old King's Lynn man was detained this morning in Wisbech on suspicion of acting as an unlicensed gangmaster. He is now assisting the police and the GLA with their enquiries.
Yesterday, a third labour provider, MAS Recruitment, of Steeple View, March, had its licence suspended with immediate effect as a result of the inquiry.
Earlier in the day, Ivars Mezals, 27, of Conference Way, Wisbech, appeared at Peterborough Magistrates' Court on charges of acting as an unlicensed gangmaster, blackmail and fraud by false representation. He was remanded to reappear on 25 October.
The remaining eight people arrested as part of Op Endeavour raids on Tuesday have been questioned and released on bail pending further enquiries.
Arrests took place earlier this week at eight different addresses in Wisbech, March and King's Lynn.
At the same time, the GLA suspended the licences of March-based recruitment agencies Roberto Mac Ltd, and Slender Contracting Ltd.
The multi-agency operation was led by Cambridgeshire police and the Gangmasters Licensing Authority (GLA) assisted by the National Crime Agency (NCA), Fenland District Council, the Home Office and the Vehicle and Operator Services Agency (VOSA).
It involved around 300 officers in total, some of whom visited a number of properties occupied by workers.
Around 80 individuals were removed to a temporary reception centre where they were given assistance by Fenland District Council, the Red Cross and Salvation Army in finding alternative employment and accommodation. The reception centre is now closed.
The day of action was part of a multi-agency inquiry into the exploitation of migrant workers in the Wisbech area. Those involved were mainly from Lithuania and Latvia but also included workers from Poland, Russia and Estonia.
The investigation was begun by the GLA eight months ago.
ENDS
Press release issued by GLA Communications and Information Officer Paul Fearn. Contact 0115 959 7069 or email communications@gla.gsi.gov.uk.
www.gla.defra.gov.uk