GLAA welcomes Royal visitor
GLAA welcomes Royal visitor
27th February 2019
HRH Princess Eugenie met officials from the Gangmasters and Labour Abuse Authority (GLAA) to learn more about their work tackling worker exploitation across the UK.
Her Royal Highness visited the GLAA's Nottingham headquarters on a visit to the city which also saw her go to the University of Nottingham and the University Hospital.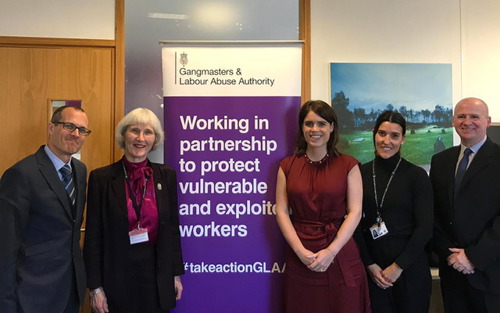 The GLAA is the foremost investigative agency for labour exploitation in the country. Its mission is to prevent, detect and investigate worker exploitation across the entire economy.
Princess Eugenie had an hour-long meeting with GLAA officials to hear more about its work along with some of the challenges the agency faces in trying to prevent workers from being abused for their labour.
Her interest in the work of the GLAA is particularly relevant, given she is a fierce advocate for victims of exploitation and slavery. With a close friend she formed the Anti-Slavery Collective – an organisation aimed at bringing change makers together to raise awareness of modern slavery as a global epidemic - https://theantislaverycollective.org/
GLAA CEO Michael Rich said: "This was a fantastic opportunity to showcase the outstanding work we do in protecting vulnerable and exploited workers. The Princess was impressed by the breadth of our work and asked some insightful questions about some of the challenges we face.
"We hope to build on this meeting by developing a constructive working relationship with her Anti-Slavery Collective and we will look to explore ways in which she can support the important work we are doing."