Thousands of pounds pledged in memory of Paul Broadbent
Thousands of pounds pledged in memory of Paul Broadbent
13th February 2018
Charitable donations in memory of the GLAA's Chief Executive Paul Broadbent have totalled in excess of £10,000.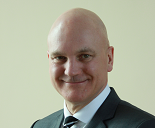 Paul died suddenly in December last year and it was the wish of his wife Fiona and family, that instead of floral tributes, contributions be made to Unseen, the charity which manages the Modern Slavery Helpline and works directly with survivors of slavery and human trafficking.
A JustGiving page has attracted dozens of donations from individuals and organisations, totalling £3,702. This figure rises to £4,316.25 when Gift Aid contributions are added.
Unseen has also received other direct donations, including £5,000 from one of the country's biggest retailers, recognising Paul's contribution to tackling labour exploitation and modern slavery.
Paul's wife Fiona said: "The love and respect so many people had for Paul has really shone through in the difficult weeks since his death and we have all taken real comfort from this.
"I'm thrilled that Unseen, a charity which was close to Paul's heart and one that he knew directly helped victims of slavery, will benefit from such generosity in his name. Thank you to everyone who has given, it means so much."
Margaret Beels, chair of the Gangmasters and Labour Abuse Authority Board, said: "We know the enormous contribution Paul Broadbent made to the fight against labour exploitation and the sheer number of lives that he touched in such a positive way.
"The level of kindness and generosity shown in the amount of money pledged to Unseen in memory of Paul, simply reinforces the immense high regard in which he was held."
Unseen say the money will be used to directly support its work with victims and survivors of modern slavery.
Its chief executive Andrew Wallis OBE said: "'On behalf of everyone at Unseen I want to say how humbled and hugely thankful we all are to Fiona and Paul's family for their generosity and kindness in the wake of such a tragedy.
"As a national modern slavery charity, we worked closely with Paul throughout his time as CEO of the GLAA and were always struck by his passion, dedication and commitment to the cause. 
"Paul leaves a huge hole which will be very difficult to fill but the donations we have received, amounting to more than £10,000, in his memory will be used to directly support those very people he fought so hard to protect.  Paul, you are sorely missed.  We will proudly continue our work in your honour."