Slavery and exploitation laid bare in new GLAA report
Slavery and exploitation laid bare in new GLAA report
8th May 2018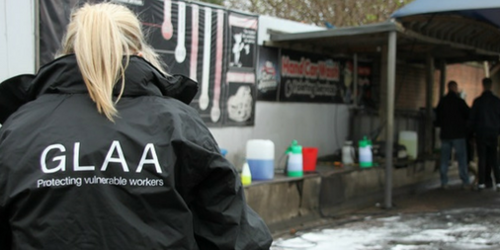 The extent of labour exploitation and slavery in modern-day Britain has been laid bare in a new report by the Gangmasters and Labour Abuse Authority (GLAA).  
Drawing on its extensive work with victims and offenders, as well as inspections at hundreds of workplaces, the GLAA has outlined the nature and scale of slavery in the UK today - who is being exploited, which industries are affected, and the methods being used.   
Some of the key findings include:
Victims of labour exploitation are most commonly Vietnamese, Albanian and British, with British victims increasing by 362%
 Forced labour accounts for around 30% of all exploitation. The majority of victims are male EU nationals from Bulgaria, Czech Republic, Estonia, Poland, Romania and Slovakia 
'Debt bondage' is an increasing tactic used by criminals, where victims are forced to work off debts they have no control over
Social media is being used to recruit workers who go on to be exploited, with some people arriving in the UK for work that doesn't exist
Victims tend to live in poor conditions without basic facilities like electricity, heating and water. They are threatened with losing their jobs if they find somewhere else to live
Some workers are being further exploited by being charged a daily rate of transport to and from work, with wages taken directly from their bank account
In the 12 months until March 2017, police in England and Wales recorded 2,255 modern slavery offences - far lower than the estimated picture of tens of thousands of offences 
The report is entitled 'The Nature and Scale of Labour Exploitation Across All Sectors Within The United Kingdom.' On Tuesday 8 and Wednesday 9 May, the GLAA will be sharing the key points from the report on its social media channels, including facts, information and advice.
The GLAA was given police-style powers in May last year and a remit to tackle exploitation across the entire UK labour market. During its first 12 months in operation, the GLAA has: 
Identified 1,335 abused workers
Recovered £94k for workers
Identified £150k of withheld wages
Identified £231k of withheld holiday pay
Launched 181 investigations
Doubled its workforce to more than 120 people 
Ian Waterfield, Head of Operations at the GLAA, said: "In May last year, the government and the public put their faith in us by granting our officers the legal powers they need to fight slavery and labour exploitation. The men and women who work for us are passionate, dedicated and committed. They work tirelessly every day to protect vulnerable people, to ensure workers get what they deserve, and to free those who are being forced to work or intimidated into handing over their hard-earned wages. 
"And we do not stand alone – our achievements are a result of the close relationships we have with a vast range of partner agencies, businesses and charities. But there is much more to do. Slavery and exploitation continues to thrive in every town and every city and our dedicated workforce will continue to build on what we've achieved." 
Roger Bannister took up the role of interim Chief Executive at the GLAA on 16 April. He said: "The sad reality is that the criminality that drives exploitation and slavery is quite close to home in the towns, cities and countryside in which we live and work. I welcome the report findings and I am proud to help lead an organisation delivering some impressive results."
Minister for Crime, Safeguarding and Vulnerability Victoria Atkins said: "The barbaric nature of modern slavery means it destroys the lives of its victims, which is why we introduced the world-leading Modern Slavery Act 2015 and increased the Gangmasters and Labour Abuse Authority funding by £2.6m a year to help tackle modern slavery and wider labour exploitation. 
"This report is part of the GLAA's crucial work to understand the scale of exploitation of vulnerable workers so that law enforcement can identify and protect victims, and convict their perpetrators. I am pleased that the GLAA has made over 100 arrests since their new powers came into force in May last year."