Construction Protocol
This joint agreement with some of the biggest names in UK construction is aimed at eradicating slavery and labour exploitation in the building industry.
The document commits signatories to: 
Work in partnership to protect vulnerable workers

Agree to share information, where possible, to help stop or prevent the exploitation of workers

Work together to manage information sensitively and confidentially

Commit to raising awareness within the supply chain

Maintain momentum through this protocol by communicating regularly
All parties have agreed to raise awareness within supply chains to help to prevent and protect workers from exploitation or abuse and take necessary steps to ensure that exploitation and abuse of workers is recognised and addressed with appropriate safeguards put in place to ensure that exploitative practice is not repeated.
Organisations sign up to the protocol independently, to help reduce opportunities for exploitation and slavery within the industry. The GLAA does not assess signatories current employment and/or supply chain practices, and should any exploitative behaviour within an organisation come to light, enforcement action will be taken.
If you'd like more information about the protocol please email: construction-protocol@gla.gov.uk
Resources
Construction protocol induction pack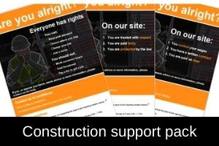 Find out more...
The Construction Protocol: How the GLAA and the construction industry work together.
Brief guide to the protocol: What you get, who it is for and how to get involved.
The People Matter Charter: Information about the Supply Chain School's People Matter Charter. Sign up for free.
Stronger Together - Construction: Stronger Together with the Chartered Institute of Building (CIOB) have developed a specialist, in-depth industry programme supporting construction companies in tackling modern slavery. 
Construction protocol survey results 2021: Summary of responses from signatories of the construction protocol.
Construction protocol survey results 2021 - PDF version
Construction protocol survey infographics 2021: Highlights from the survey results.
SOS hand signal resources: Stronger Together with the support from CITB and CIOB are promoting a range of resources to empower victims of exploitation to get help within the construction sector.
Kier train Mental Health First Aiders: Kier take steps to raise awareness of modern slavery across their organisation through training their Mental Health First Aiders.
The signatories:
3D Personnel
A Plant
Accept Recruitment
Acorn Group
Action Sustainability
Aggregate Industries
Ainscough
Align Joint Venture
Amey UK
Approved Workforce
Arco
Ardea International
Ardmore Group
ASF bespoke
ASH Drywall
Ashford Environmental Services Ltd
Auctus Management Group
Avetta
Avondale Construction
AVRS Systems
Bachy Soletanche
Bailey Partnership
Balfour Beatty PLC
BAM
Barhale
Barnes Construction
Barratt Homes
Baxall Construction
Beard Construction
Bellway
BG & E
Blade Flooring
Blue Water recruitment Limited 
Blueprint recruitment
Bowmer Kirkland
BRC
BRE
Breedon Group
Bridge Recruitment Services
Bridges Ltd
Brightwork
British Land
BTS Construction
Bugler
CALA group Ltd
Cape Ltd
Capital and Counties (Capco)
Capula Limited
Carey Group
Carter
Carter Lauren
CD Engineering
CDC College
CHAP Construction
Chapman Architects
Chartered Institute of Building (CIOB)
Chartered Institute of Procurement & Supply
Chas 
Cheetham Hill Construction
Chevron Traffic Management
CITB
Claritas Group
Clark Contracts
T Clarke Contracting Ltd
Clipfine Ltd
CMT Group
Colas Rail
Collins Earth Works Ltd
Connell Brothers
Co-op
Costain
Cousins Group
CPA
CRL
Dandara Living Contractors Ltd
Dandara UK Property Holdings Limited
Daniel Owen
Danny Sullivan
Deniz Contractors Ltd
Department of Health and Social Care
DGP Logistics PLC
Diamond Building Group
Doosan Enpure Ltd
Dragados SA 
Drainline
Draper Civil Engineering Ltd
DT Source
Dynamic Group
EEBS CIS Payroll
EHA Group
Elliot UK
Engie
Enviraz
Epiphany
Eric Wright Group
Erith Contractors
ESS Modular
Excelsior Panelling System
Faircloth Construction
Falcon Cranes
Falcon Green
Field Systems Designs Limited
Fifty Eight
First Response Group
FM Conway
Forest Traffic Services
Fortel
Fortem
FP McCann
Freyssinet
Galliford Try
Gardner & Co
GF Tomlinson Group Ltd
GKR Scaffolding
GLAA
Global HSE Group Ltd
GMI Construction Group PLC
Go Green
GRAHAM 
Grupo Aluman
Hall & Kay Fire Engineering
Hampshire County Council
Hanson UK
Harvey Shopfitters Ltd
Hays Talent Solutions
Henry Boot Construction
Henry Brothers
Henry Riley LLP
Hercules Site Services Ltd
Herrenknecht International Ltd
Hexa Services
Hive360
Homes England
HS2
HW Martin (The Martin Group of Companies)
Hydroline Solutions
HY-TEN
I & H Brown Ltd
IEMA
Inland PLC
Inndex
ISG
ITS Construction
J Coffey Construction Ltd
J McCann
J. Murphy & Sons Limited    
Jackson Civil Engineering
Jerram Falkus
JJ Rhatigan
Joseph Gallagher Group
JSM
Kelly Group
Keltbray
Keyline
Kier
Kilnbridge
Knight Build
Komfort
Laing O'Rouke
LandSec
Langan Aviation & Infrastructure Ltd
Latimer by Clarion Housing Group
Legal & General
Lendlease
Lighthouse Safety
Lindner Prater
Lineside Structure Maintenance Ltd
Logan Construction
Logical 
London Legacy
Loughton Contracts
LRL Roofing Solutions
Lucas UK
Lyons Annoot
Mace
Madigan Gill
Mahoney Contracts
Mammoet
Manchester University
Mane
Marshalls
Maxi Construction Ltd
Maylim 
McGee
McGinley Support Services
Mclaren Group   
McLaughlin & Harvey Ltd
Mercaston Solutions Ltd
Meridian
Mick George
Mitchellson Formwork & Civil Engineering Ltd
Morgan Marine Limited
Morgan Sindall
Morson
MPB Structures
MPS People
Mulalley
Multiplex
Munnelly Group PLC
Munnelly Support Services Ltd
Murray and Willis
MWH Treatment
National Grid
Nationwide Hire
NBC Ltd
Neilcott Construction
NET ZERO BUILDINGS
NG Bailey
Northgate Vehicle Hire
Now Careers
O'Neill and Brennan
Osbourne
Persimmon Homes
PFI Solutions
PHD group
Phoenix Security
Phoenix Surfacing
Planet Contracting
PLP Construction ltd
Power Access Systems
PPAC (Passport Authentification Check)
Priory Mechanical Services
Procladd
Proman Uk
Quint Solutions
R.Moulding & Co
Randstad CPE
Read Construction 
Reconomy
Recruitment and Employment Confederation
Reds 10
Regal London
Reliable Contractors
Resilient World
Richard Alan Engineering
Right Contract Services
Robertson
Rollalong
Rosguill
Rullion Ltd
Saint Gobain
Scape
SCF Shaping Public Construction
Scottish Water
Selectaglaze Ltd
Schofield & Sons
Sir Robert McApline
Skanska UK
Sky Blue Recruitment
Slave Free Alliance
Source One HR
Spatial Initiative
Speedy Services
Speller Metcalfe
Squibb Group 
St Modwen
Standage
Stanmore Ltd
Stephenson Group
Stockton Drilling Ltd
Story Homes
Stronger Together
Sumo Survey Services
Supply Chain Sustainability School
Swift Crafted Ltd
Swift Group
T&B Contractors
Tamdown
Tarmac
Taylor Wimpey
TF Tull
The Clancy Group
The Crown Estate
The Spencer Group
Thomas Sinden
Thorne Baker Group
Tideway
TSA Ltd
Uplands Retail Ltd
Venesky-Brown
VGC group
Vistry Group 
Volker Wessels
VVB
W.Stirland
Ward and Burke
Wates
Wernick Hire
Williams Southern Limited
Willmott Dixon
WJ Group
Woodhead Group
Zone Contractors Ltd