Slavery victim still has nightmares after abuse at hands of 'beast'
Slavery victim still has nightmares after abuse at hands of 'beast'
12th July 2023
A modern slavery victim still has nightmares after being beaten by the "beast" who controlled his life.
The man, now aged in his early 50s, was one of two victims exploited and attacked by Marian Mustafa who was jailed for eight years last week.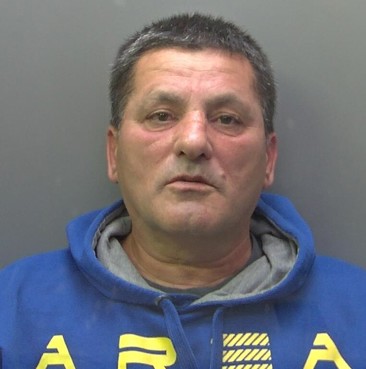 Mustafa admitted arranging or facilitating the travel of the pair with a view to exploiting them when he appeared before Peterborough Crown Court on Thursday July 6. 
The judge also imposed a Slavery and Trafficking Prevention Order for 12 years, on the 54-year-old, of no fixed address but formerly of Granville Street, Peterborough.
In a statement, the first victim said that he had been convinced to leave Romania by Mustafa in 2019, who told him there was a better life to be had in the UK and that he would help him find work. 
Once in the UK, the victim said Mustafa's behaviour changed completely.
He said: "From a very nice and trusting man he became what I would describe as a beast. Marian would assault me regularly. This started with him slapping me around the head but the violence became worse with Marian on occasions kicking me about the body.
"On one occasion he broke my ribs by kicking me while I was sleeping on the floor."
In addition to the physical abuse, Mustafa controlled the victims' wages and identity documents.
Despite the initial relief at being rescued and now being in a safe place, the victim is still traumatised by his ordeal, only being able to sleep for three hours every night, feeling worried at different times of the day for no reason, and struggling to trust anyone.
"I find myself having nightmares, where I am reliving different parts of this life; especially where I am being beaten," he added.
"I find that I am feeling very angry with myself; allowing myself to be humiliated and treated by someone in this way."
Mustafa was arrested by the Gangmasters and Labour Abuse Authority (GLAA) in July 2019 during an operation conducted with Cambridgeshire Police in Peterborough. 
He was charged in 2020 but absconded back to Romania. Upon his return to the UK in 2022, Mustafa was arrested and remanded in custody. 
The second victim, also a Romanian man in his early 50s, added that Mustafa's treatment of him had caused him "great stress and embarrassment".
He said: "I still haven't told anybody about what happened as I am embarrassed.
"When he was arrested and I was moved I was concerned for my safety as he has a lot of friends around the country and I didn't know what they would do to me.
"I was also afraid when I would walk alone back from work as I was fearful of what could happen and who was going to attack me."
The victim said that this feeling lasted for two months and only stopped when the support he had around him made him feel safer in his new home and place of work.
"Without that support network I feel I would have been in a lot worse situation and would still suffer with this fear," he added.
If you know anyone who has been trafficked into the UK and is a victim of forced labour, please contact the GLAA by emailing intelligence@gla.gov.uk or by using the online reporting form. 
Alternatively, call the Modern Slavery and Exploitation Helpline on 08000 121 700 or Crimestoppers anonymously on 0800 555111.